EUROPÉENNES DE BELFORT 2012

Date : 01/07/2012
Lieu : Eurockéennes de Berfort (France)
Label : Ace Bootlegs Production
Support : 1 cd
Durée : 66:03 mn
Source : FM broadcast (France Inter)
Qualité sonore : 9,5/10

Liste des titres :
01. Sixteen Saltines – Dead Leaves and the Dirty Ground (6:28)
02. Missing Pieces (3:32)
03. Love Interruption (2:55)
04. Hotel Yorba (2:34)
05. Top Yourself (5:54)
06. Weep Themselves To Sleep (4:34)
07. I Guess I Should Go To Sleep (2:30)
08. (Screwdriver) Blue Blood Blues – The Hardest Button To Button (8:24)
09. Steady As She Goes – (Cannon) Ball and Biscuit (11:46)
10. Take Me With You When You Go (4:10)
11. Carolina Drama – Seven Nation Army (13:16)
Commentaire : Un bon petit concert qui a bien la pêche.. Pour s'épargner les commentaires du DJ etre les morceaux, le gars qui a enregistré ça à coupé tous les passages entre les chansons. Çà altère un peu la cohésion de l'ensemble, c'est dommage.
Disponible ici* : http://www.guitars101.com/forums/f145/jack-white-2012-07-01-belfort-fr-fm-flac-143477.html#post1016527
*Assurez-vous que le téléchargement de ces fichiers ne contrevienne pas à la législation en vigueur.
Pochette :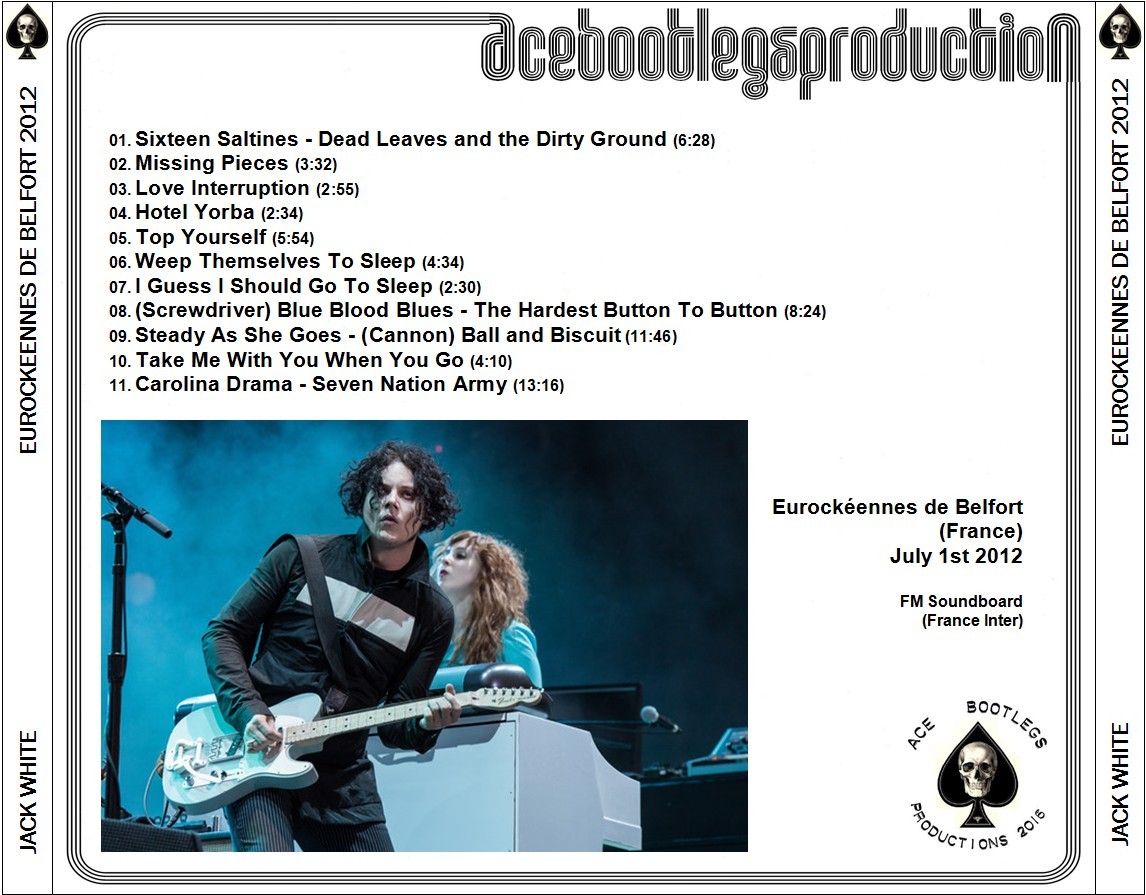 Bootleg n°1788