LIVE AT THE OLYMPIA
Date : 25/11/1967
Lieu : L'Olympia, Paris, France
Label : Inconnu
Support : 1 cd
Durée : 69:53 mn
Source : Soundboard (mono)
Qualité sonore : 10/10

Liste des titres :
01. Instrumental solo's by Pee Wee Ellis (6:34)
02. Instrumental Intro (0:43)
03. I Wanna be Around (3:22)
04. That's Life (4:05)
05. Kansas City (4:49)
06. Instrumental Intro by Danny Ray (2:36)
07. Out of Sight (1:34)
08. Try Me (2:48)
09. Papa's Got a Brand New Bag (15:07)
10. Prisoner of Love (6:44)
11. Instrumental (My Girl) (0:22)
12. Cold sweat (10:14)
13. May Be the Last Time (5:05)
14. I Feel good – Please, Please, Please (2:52)
15. Cold sweat (Reprise) (2:58)
Musiciens :
Alfred 'Pee Wee' Ellis, Raymond Reed, Maceo Parker, St. Clair Pinckney: Horns
Jimmy Nolan, maybe Alphonso Kellum?: Guitars
Bernard Odum: Funky, Funky Bass
Clyde Stubblefield: Drums
Bobby Bird, Bobby Bennett: Vocals
String section
MC's: Danny Ray and that other guy
Commentaire : « Okay, forget all the other James Brown shows, this is the real deal. Here is the full show (except It's a Mans, Mans world, officially released on 'I Got The Feelin') in High Quality audio. For me personally there is no better, this even beats Live at the Apollo II, but hey! thats just my opinion.
Listen to 14 minutes of the tightest funk ever played on this planet in Papa's Got a Brand New Bag. This kicks the ass of every other performance of this song i know. Witness the birth of Funk in Cold Sweat. Remember this is 1967! James Brown and his band are the true heroes of Funk, Soul and Jazz. » (unknown Dime uploader)
Disponible ici* :  http://www.guitars101.com/forums/f145/james-brown-1967-11-25-paris-fr-sbd-flac-204258.html
*Assurez-vous que le téléchargement de ces fichiers ne contrevienne pas à la législation en vigueur.
Pochette: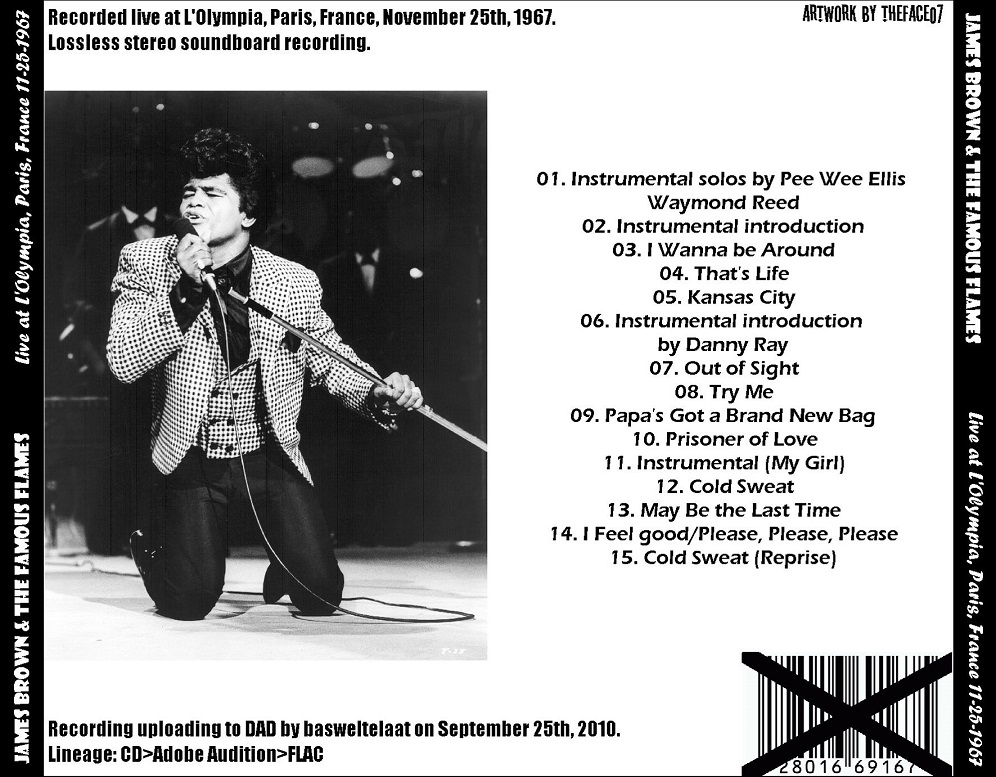 Bootleg n°3004