LE ZENITH (PARIS, 2016)

Date : 26/02/2016
Lieu : Le Zénith, Paris, France
Recorded, prepared and shared on Dime by finkployd49 in January 2016
Label : finkployd49
Support : 2 cd
Durée : 103:43 mn
Source : Audience
Qualité sonore : 8/10 à 9/10 (voir commentaires)

Liste des titres :
CD1 – 52:29
01. United Snakes (7:18)
02. Clock Forward (5:01)
03. Risingson (5:32)
04. Paradise Circus (5:39)
05. Ritual Spirit (4:32)
06. Girl I Love You (8:14)
07. Psyche (4:01)
08. Future Proof (6:38)
09. Jupiter (5:34)
CD2 – 51:03
01. Teardrop (5:20)
02. Angel (5:09)
03. Inertia Creeps (3:51)
04. Safe From Harm (8:49)
05. Take It There (5:54)
06. Voodoo in my Blood (4:49)
07. He Needs Me (5:17)
08. Unfinished Sympathy (6:28)
09. Splitting The Atom (5:26)
Crédits et notes :
Clock Forward (with Martina Topley-Bird)
Paradise Circus (with Martina Topley-Bird)
Ritual Spirit (with Azekel)
Girl I Love You  (with Horace Andy)
Psyche (Flash Treatment)
Jupiter (with lyrics from Martina Topley Bird's Poison). Without a word, band leaves stage for 8 minutes due to technical issues
Angel (with Horace Andy)
Inertia Creeps (aborted, restarted then aborted again, band leaves stage again for 12 minutes)
Safe From Harm (with Deborah Miller)
Voodoo in my Blood (with Young Fathers)
He Needs Me (with Young Fathers)
Commentaires de l'auteur de l'enregistrement :

PLEASE NOTE: as the right channel was sometimes overloaded, I switched to mono left a few minutes at the end of tracks 4,8,11 &13. Track 1 is fully mono. Honestly you will hardly notice anything, unless you listen on headphones.
The band left the stage twice due to technical issues (track 9 and 12). They didn't even apologize.
SOURCE: EX (mostly)stereo audience recording (from the 8th row center).
LINEAGE:
-> SP-CMC-8
-> Edirol R-05 24bits / 48KHz -> Goldwave v.5.69: edits, tracks, applause reduction, equalization (60 Hz -3.0 dB, 150 Hz -3.0 dB, 6000HZ +1.0, 15KHZ +3.0), channel balance, maximization at full dynamic range, 16bits / 44.1 KHz conversion.
-> TLH 2.7.0 (build 160) -> FLAC level 8 align on sector boundaries, md5.
Tags with mp3tags.
Commentaire d'un spectateur : (Commentaire emprunté au site de l'Express, j'ai honte! – pas de l'avoir emprunté, mais que ça vienne de ce torchon raciste et réactionnaire) « Le mythique groupe de trip-hop des années 90 est de retour sur scène, dix-huit ans après la sortie de Mezzanine. Un concert ambitieux au résultat décevant.
Pour son retour, le groupe de Bristol n'a pas manqué d'ambition. Toujours engagé, Massive Attack a mis en scène vendredi soir pour son premier concert au Zénith de Paris, une dénonciation de la société de consommation, mêlant logos de marques et drapeaux des pays. Des questions, comme autant de requêtes sur Google – Comment devenir riche? Peut-on mélanger l'aspirine et le Xanax?-, peignaient une société d'individus autocentrés, préoccupés par l'argent et la consommation. Le groupe a aussi multiplié les messages en faveur des migrants et la dénonciation de la guerre en Syrie. Images et chiffres chocs, appel à l'optimisme, à l'engagement, au partage…
Les fans auraient aimé que les Britanniques mettent la même énergie dans leur musique et leurs interactions avec le public. Certes, le bonheur d'entendre Martina Topley-Bird -sur Teardrop -ou le sexagénaire Horace Andy – la voix unique de You my Angel – est intact. Mais le show, déjà en manque de rythme en raison des incessants changements de chanteurs, est émaillé de problèmes techniques et de lenteurs. Et quand le groupe quitte la scène, excédé par un bug, pas un mot pour le public, c'est un ingénieur du son français qui annonce un quart d'heure de pause pour réparer.
Pas une excuse non plus à leur retour. Le groupe ne se donne pas la peine d'achever Inertia Creeps stoppée net après le geste de colère de Del Naja. Le public se bat pour rétablir le contact. Quelques morceaux restent hypnotiques. Puis le groupe quitte à nouveau la scène pour faire défiler le nom des 130 victimes des attentats du 13 novembre, avant de jouer Unfinished Sympathy. Des gorges se serrent. Est-ce l'évocation des morts ou ce rendez-vous manqué? Cette empathie, les fans ne l'ont pas sentie. Au lendemain de la « performance », les messages sont amers sur la page Facebook des artistes. » Emma Defaud, publié le 27/02/2016
Disponible ici* : sur demande
*Assurez-vous que le téléchargement de ces fichiers ne contrevienne pas à la législation en vigueur.
Pochette :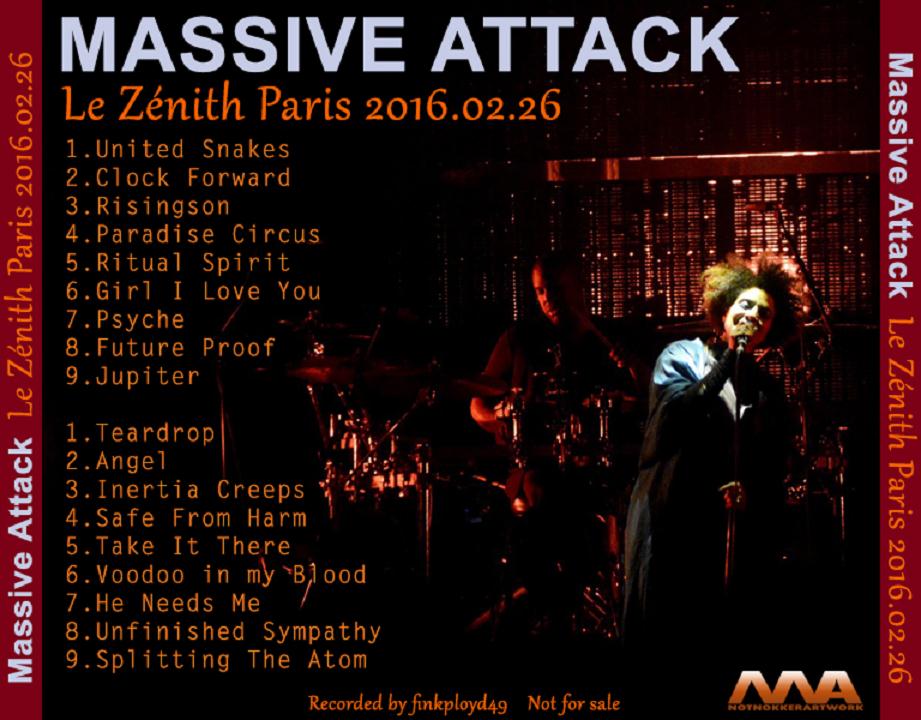 Bootleg n°2151