30 NOVEMBER 1982 SAN FRANCISCO
aka
RON McGOVNEY'S LAST SHOW


Date : 30/11/1982
Lieu : Mabuhay Garden, San Francisco, Ca.
Label : Roemer's CDR Bootlegs
Support : 1 cd (mp3 – 128 kbps)
Durée : 32:16 mn
Source : Audience
Qualité sonore : 5,5/10

Liste des titres :
1. Hit The Lights (2:04)
2. The Mechanix (4:33)
3. Phantom Lord (4:17)
4. Jump In The Fire (4:28)
5. Motorbreath (3:22)
6. No Remorse (5:46)
7. Seek And Destroy (7:46)
Commentaire : « Le concert du lendemain au Mabuhay Gardens à San Francisco est la dernière apparition de McGovney au sein de Metallica. Il expliqua à la radio KNAC en 1993 que le voyage du retour fut la goutte d'eau qui fit déborder le vase et le poussa à partir : « Sur le chemin de Los Angeles on s'est arrêtés pour acheter de l'alcool et ils ont pris quatre litres de whisky. James, Lars et Dave étaient complètement torchés. Pendant que je conduisais, ils passaient leur temps à cogner la vitre pour que je me gare pour qu'ils puissent pisser. Et puis, à un moment, alors qu'on était à l'arrêt, je tourne la tête et je vois Lars allongé en plein milieu de l'Interstate 5. Incroyable ! Alors je me suis dit : « Ca suffit les conneries ! » » (Wikipedia)
Disponible ici (mp3)* :  http://www.filefactory.com/file/mra1ht6ah2f/Metallica_-%20San%20Francisco,%20CA%20-%2011-30-82.rar
*Assurez-vous que le téléchargement de ces fichiers ne contrevienne pas à la législation en vigueur.
Pochette :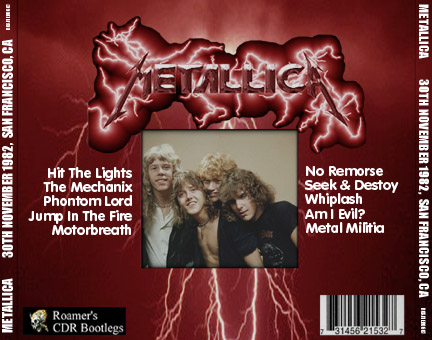 Bootleg n°493