ANIMALS TOUR DEBUT

Date : 23/01/1977
Lieu : Westfalenhalle, Dortmund, West Germany
Label : Shout to the top (Ref. : STTT 156/157)
Support : 2 cd
Durée :118:22 mn
Source : Audience
Qualité sonore : 7/10

Liste des titres :
CD 1
1. Sheep (12:14)
2. Pigs On The Wing – part 1 (1:32)
3. Dogs (18:07)
4. Pigs On The Wing – part 2 (2:21)
5. Pigs (Three Different Ones) (17:25)
CD 2
1. Shine On You Crazy Diamond – part 1 (13:27)
2. Welcome To The Machine (7:58)
3. Have A Cigar (5:24)
4. Wish You Were Here (6:21)
5. Shine On You Crazy Diamond – part 2 (16:21)
6. Money (9:28)
7. Us And Them (7:42)
Commentaire : Le premier concert de la tournée 1977 (tournée intitulée « In the flesh tour », et non « Animals tour ») a lieu à la Westfalenhalle de Dortmund, où le groupe joue deux soirs de suite.
Comme durant chaque concert de cette tournée, Roger Waters hurle un nombre au milieu de la chanson « Pigs (three different ones) » : il s'agit du numéro du concert – donc celui du 23 janvier porte logiquement le n°1. Les exégètes de Pink Floyd pensent qu'il s'agit d'un moyen commode pour identifier les enregistrements des concerts que le groupe effectue chaque soir, mais ce n'est qu'une hypothèse parmi d'autres.
Il y a 3 sources connues pour cet enregistrement. Le « recorder 1 » et le « recorder 3 » sont les plus connus et ont été utilisés pour la plupart des 20 et quelques bootlegs consacrés à ce concert. Ce bootleg-ci est issu de la source n°1. L'enregistrement a une qualité sonore un tout petit peu meilleure que celui de la source n°3, mais il dure moins longtemps (environ 118 mn contre plus de 126 mn) mais cette différence s'explique principalement par le fait que sur la source n°1 n'inclut pas l'intermède de plus de 5 minutes situé entre la fin du deuxième set et le rappel.
Source n°1* disponible ici** : http://www.guitars101.com/forums/f145/pink-floyd-1977-01-23-dortmund-de-aud-shn-127327.html
* Pas certain qu'il s'agisse du bootleg « Animals tour debut » mais 'a coup sur il s'agit d'un bootleg tiré de la source n°1.
**Assurez-vous que le téléchargement de ces fichiers ne contrevienne pas à la législation en vigueur.
Pochette :
Livret
Dos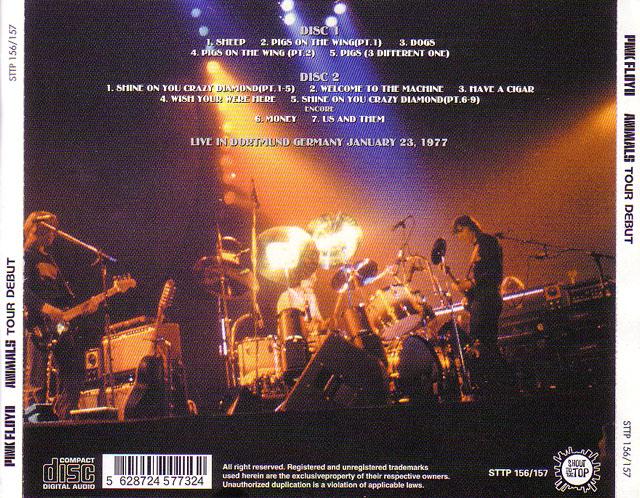 Dos (version alternative)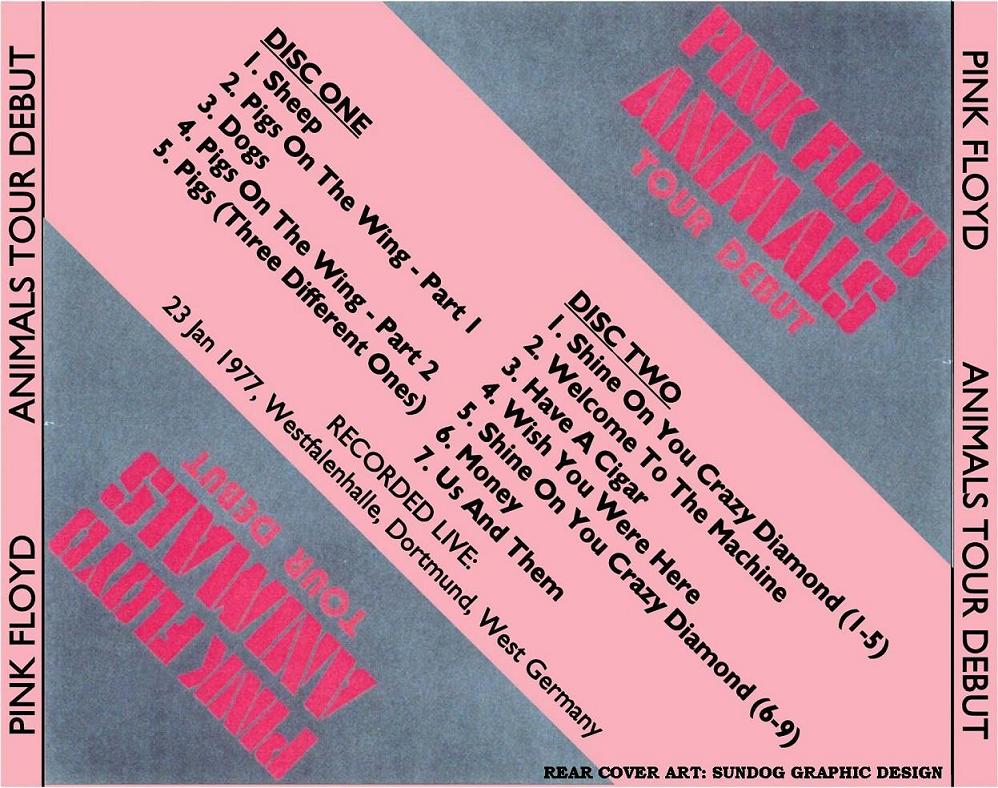 Bootleg n°125