CAPITOL THEATRE, 4/22/1970 (COMPLETE)
Date : 22/04/1970
Lieu : Port Chester, NY
Label : Inconnu
Support : 2 cd
Durée : 152:08 mn
Source : Audience
Qualité sonore : 6,5 à 7/10

Liste des titres :
CD1 – 73:39
01-Grantchester Meadows (8:43)
02-Astronomy Dominé (12:45)
03-Cymbaline (16:36)
04-Atom Heart Mother (20:47)
05-The Embryo (14:48)
CD2 – 78:29
01-Green Is The Colour (5:24)
02-Careful With That Axe, Eugene (13:00)
03-Set The Controls For The Heart Of The Sun (17:31)
04-A Saucerful Of Secrets (23:46)
05-Interstellar Overdrive (18:48)*
*original text file misnamed as « Pink Blues »
Disponible en format flac* : http://www.guitars101.com/forums/f145/pink-floyd-1970-04-22-port-chester-ny-aud-flac-175153.html#post1152918
*Assurez-vous que le téléchargement de ces fichiers ne contrevienne pas à la législation en vigueur.
Commentaire : ce concert a aussi été publié en bootleg sous le titre de Capitol Theater Port Chester, NY 4/22/1970. Il propose une version incomplète du concert, mais avec une qualité sonore un peu meilleure.
La version « complete » souffre d'une saturation des basses particulièrement pénible dans tous les passages où le groupe joue fort. Le reste dispose d'une qualité sonore plutôt bonne en dehors des voix, qu'on entend parfois mal.

Pochette :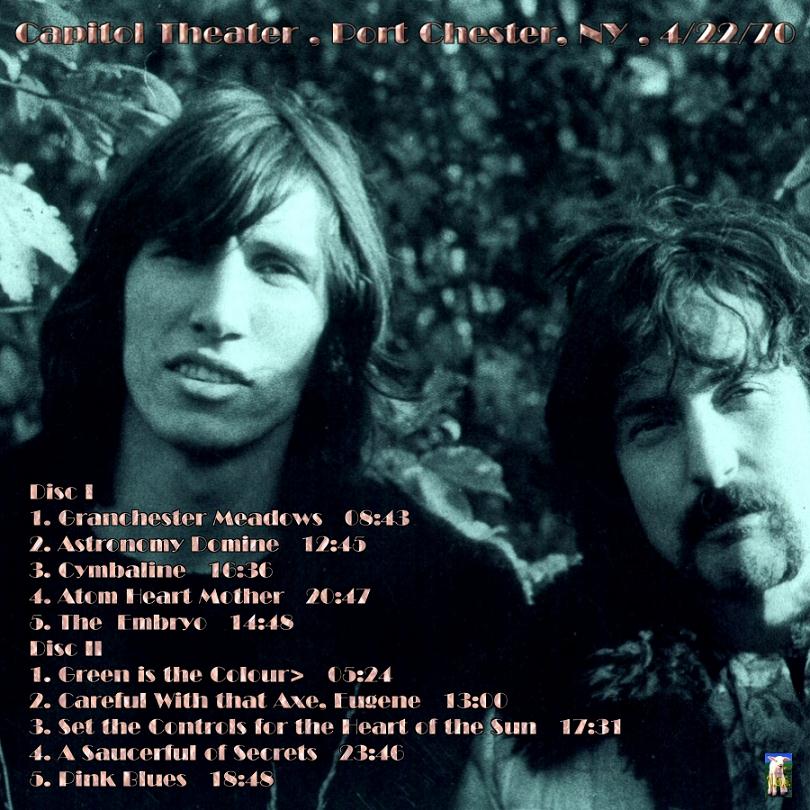 Bootleg n°1494