DEMOS FROM THE FINAL CUT ALBUM

Date : juillet à décembre 1982
Lieu : différents studios de Londres
Label : Inconnu
Support : 1 cd
Durée : 68:49 mn
Source : Studio (bande de génération inconnue)
Qualité sonore : 8,5/10

Liste des titres :
1. The Post War Dream (2:10)
2. Your Possible Pasts (4:43)
3. One Of The Few (1:16)
4. The Hero's Return (Part 1 ) (2:38)
5. The Gunners Dream (5:04)
6. The Hero's Return (Part 2 ) (1:25)
7. Paranoid Eyes (3:30)
8. Get Your Filthy Hands Off My Desert (1:11)
9. The Fletcher Memorial Home (4:13)
10. Southampton Dock (1:40)
11. The Final Cut (5:03)
12. Not Now John (4:29)
13. Two Suns In The Sunset (4:42)
14. The Post War Dream (1:59)
15. Your Possible Pasts (4:35)
16. One Of The Few (1:12)
17. The Hero's Return (Part 1 ) (2:29)
18. The Gunners Dream (4:52)
19. The Hero's Return (Part 2 ) (1:20)
20. Paranoid Eyes (3:21)
21. Get Your Filthy Hands Off My Desert (1:08)
22. The Fletcher Memorial Home (4:11)
23. Southampton Dock (1:38)

Commentaire : The Final Cut est un album mal aimé de Pink Floyd. Est-ce d'ailleurs vraiment un album de Pink Floyd, ou bien le premier album solo de Roger Waters ? Quelques éléments de réponse sont donnés dans le texte en anglais extrait de Wikipedia ci-dessous. Quoi qu'il en soit, c'est un album que j'aime beaucoup, et l'un des trois ou quatre albums du groupe que j'écoute le plus souvent.
« American composer Michael Kamen, who had contributed to The Wall, took absent keyboardist Richard Wright's traditional role of keyboardist, but also mediated between Waters and Gilmour. James Guthrie was employed as the studio engineer, while Mason was helped by Ray Cooper, and replaced on « Two Suns in the Sunset » by Andy Newmark when he was unable to perform the complex timing changes required of him. Mason was also responsible for the repeated reprises of the 'Maggie, what have we done?' chorus. « Baker Street »'s Raphael Ravenscroft was hired to play the saxophone. Recording took place in the latter half of 1982 across an unprecedented eight studios, including Gilmour's home studio at Hookend Manor, and Waters' Billiard Room Studios at East Sheen. The other venues were Mayfair Studios, Olympic Studios, Abbey Road Studios, Eel Pie Studios, Audio International, and RAK Studios.
Tensions soon became apparent, and while Waters and Gilmour initially worked together, playing the video game Donkey Kong in their spare time, the two eventually chose to work separately. Co-engineer Andy Jackson worked with Waters on the vocals, and Guthrie worked with Gilmour on the guitars. They would occasionally meet to discuss the work that had been completed, and while this methodology was not in itself unusual, Gilmour began to feel the strain, sometimes barely maintaining his composure. Kamen too felt pressured; Waters had never been a confident vocalist, and on one occasion, after repeated studio takes, Waters noticed him writing on a notepad. Losing his temper, he demanded to know what Kamen was doing, only to find that the pianist had been writing « I Must Not Fuck Sheep » repeatedly.
Like previous Pink Floyd albums, The Final Cut used sound effects combined with advances and innovations in audio recording technology. Mason's contributions were almost entirely limited to recording sound effects for the experimental Holophonic system, an audio processing technique used to add an enhanced three-dimensional effect to the recordings (The Final Cut is the second album ever to feature this technology). The technique is featured on « Get Your Filthy Hands Off My Desert », allowing the sound effect of an explosion to appear to surround the listener. Sound effects from earlier Floyd albums are also evident; the wind from Meddle (1971) is re-used, as are parts of The Dark Side of the Moon (1973), Wish You Were Here (1975), Animals (1977), and The Wall (1979).
After months of poor relations, and following a final confrontation, Gilmour was removed from the credit list as producer—reflecting what Waters felt was his lack of song-writing contributions. Waters later admitted that he was also under significant pressure, and that early in the production of The Final Cut he believed he would never record with either Gilmour or Mason again. Although he issued a vague threat to release the album as a solo record, Pink Floyd were contracted to EMI, and such a move was unlikely. Mason kept himself distant as he dealt with marital problems. »
Ces démos sont d'une qualité très satisfaisante mais pas d'une originalité folle. Elles datent probablement d'une phase avancée des sessions car des arrangements déjà sophistiqués (orchestre et tout le tralala) sont déjà présents et les versions sont très proches des versions finales à l'exception des deux dernières chansons, « Not now John » et « Two suns in the sunset », qui ressemblent vraiment à des bandes de travail.
Disponible en format flac* : sur demande / on request

*Assurez-vous que le téléchargement de ces fichiers ne contrevienne pas à la législation en vigueur.    
Pochette :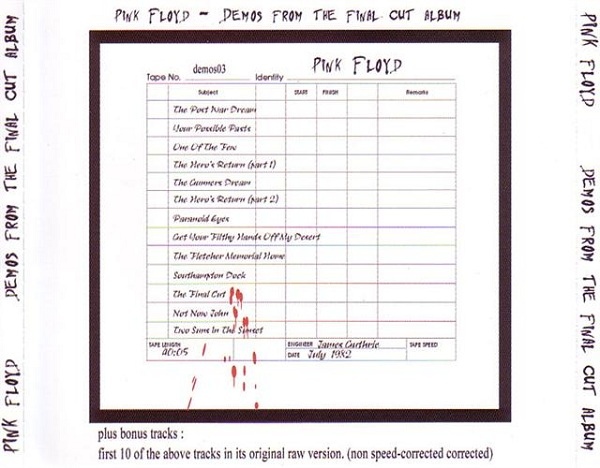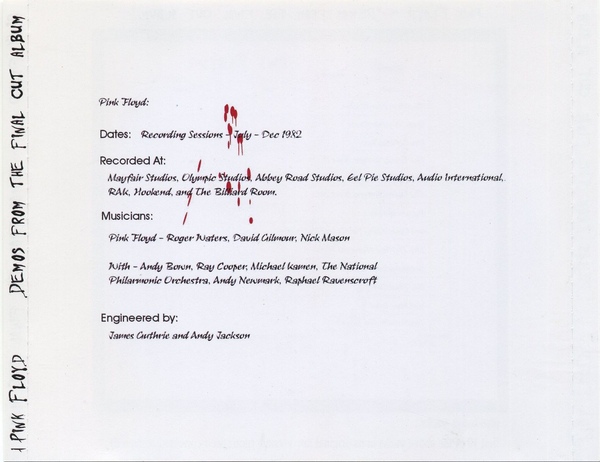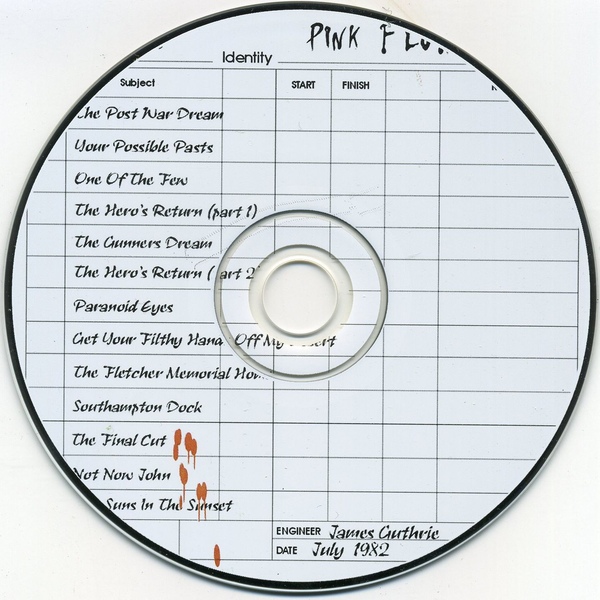 Bootleg n°2135