HAPPENING AT THE GOLDEN CIRCLE

Date et lieu :
10/09/1967, Golden Circle, Stockholm, Sweden

06/12/1969, Afan Lido Indoor Sports Centre, Port Talbot, Glamorgan, Wales

Label : Godfather Records (Ref. : GR 704)
Support : 1 cd
Durée : 79:37 mn
Source : Audience
Qualité sonore : 8,5/10 + 6,5/10

Liste des titres :
01. Announcement (1:39)
02. Mathilda Mother (5:54)
03. Pow R. Toc H. (11:45)
04. Scream Thy Last Scream (3:52)
05. Set The Controls For The Heart Of The Sun (7:31)
06. See Emily Play (3:15)
07. Interstellar Overdrive (9:03)
08. Interstellar Overdrive (12:17)*
09. Green Is The Color (3:15)*
10. Careful With That Axe Eugene (8:53)*
11. Set The Controls For The Heart Of The Sun (12:13)*
*Bonus tracks
AFAN Festival of Progressive Music
Commentaire : Il s'agit du plus ancien enregistrement connu d'un concert de Pink Floyd et, tenez vous bien, il est d'une excellente qualité sonore, à part les voix, presque inaudibles. Il a été enregistré lors de la courte tournée scandinave de Pink Floyd qui a suivi la sortie de leur premier album, au tout début de l'année 1967. Les deux seuls autres concerts de Pink Floyd avec Syd Barrett qui ont été enregistrés l'ont d'ailleurs été lors de cette tournée également : l'un à Copenhague le 13 septembre et l'autre à Rotterdam le 13 novembre.

Mais celui-ci, contrairement aux deux autres a bénéficié d'un matériel d'enregistrement de première classe : un micro professionnel branché sur un magnétophone Revox.
En mai 2011, Anders Lind, l'auteur de l'enregistrement, proposa d'organiser une diffusion publique de la bande dans le lieu même où celui-ci avait eu lieu 44 ans plus tôt, le Golden Circle. C'est à l'occasion de cette diffusion que le vieux bootlegger a vu son trésor bootleggé. En effet, malgré l'interdiction, un spectateur a réussi à enregistrer l'intégralité de la diffusion avec une qualité sonore assez stupéfiante, qui n'est altérée que par quelques bruits de fond de spectateurs un peu trop enthousiastes.
On est toutefois en droit d'espérer la sortie prochaine d'un enregistrement de la bande master, d'autant que la firme EMI aurait approché Anders Lind pour lui racheter sa bande.
En ce qui concerne l'enregistrement du AFAN Festival, il est d'une qualité nettement inférieure, mais néanmoins un tout petit peu meilleur que la version du bootleg « Afan Lido ».
Le concert du Golden Circle est disponible ici* : https://www.guitars101.com/forums/f145/pink-floyd-1967-09-10-stockholm-swe-aud-flac-180863.html
*Assurez-vous que le téléchargement de ces fichiers ne contrevienne pas à la législation en vigueur.
Pochette :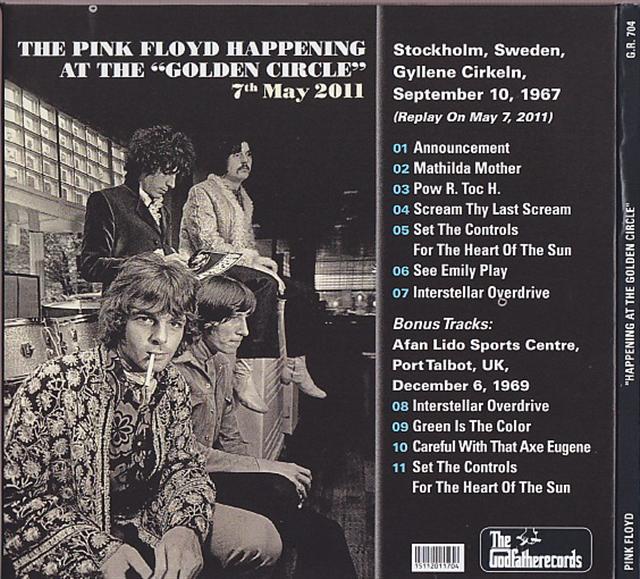 Bootleg n°711