WELCOME TO VIENNA (PHASE CORRECTED)

Bootleg envoyé par JPG!

Date : 01/02/1977
Lieu : Stadthalle, Vienna, Austria
Label : Golden Eggs (Ref. : EG 29/30)
Support : 2 cd
Durée : 122:53 mn
Source : Audience
Qualité sonore : 8,5/10

Liste des titres :
CD1 – 53:07
01. Sheep (12:25)
02. Pigs On The Wing (Part 1) (1:57)
03. Dogs (18:40)
04. Pigs On The Wing (Part 2) (2:48)
05. Pigs (Three Different Ones) (17:17)
CD2 – 69:46
01. Shine On You Crazy Diamond (Parts 1-5) (14:10)
02. Welcome To The Machine (8:21)
03. Have A Cigar (6:12)
04. Wish You Were Here (5:29)
05. Shine On You Crazy Diamond (Parts 6-9) (17:40)
06. Money (10:10)
07. Us And Them (7:44)
Commentaire :  Une des meilleurs versions de ce concert parmi les 7 ou 8 de ma collection !
Quelques détails techniques (en anglais) :
As it seems the all releases for this show are out of phase, it was noticed by one of our sites members , and as proof that there are still super cool people in this world Davidestrada gracefully fixed them for all of us to enjoy… So all thanks go to him
Here is his explanation (I am technically challenged, so I have no clue what it means… but my ears say: WOW!!!):
« The main source on that show is inverted, That means the waves are facing each other. That cancels out the punch and gives it a thin pingy sound. The patch before Money and After Money is good but all the main source is not. I checked out 2 other releases I have from then and they are the same as this new one. Download the link I sent and you will hear the upgrade difference. No EQ just flipped one side and got it in Phase (Moved one side 8 micro dots to line up) »
Disponible ici* :  https://pinkfloyd-pa.blogspot.com/2018/07/welcome-to-vienna-01-02-1977.html
*Assurez-vous que le téléchargement de ces fichiers ne contrevienne pas à la législation en vigueur.  
Pochette: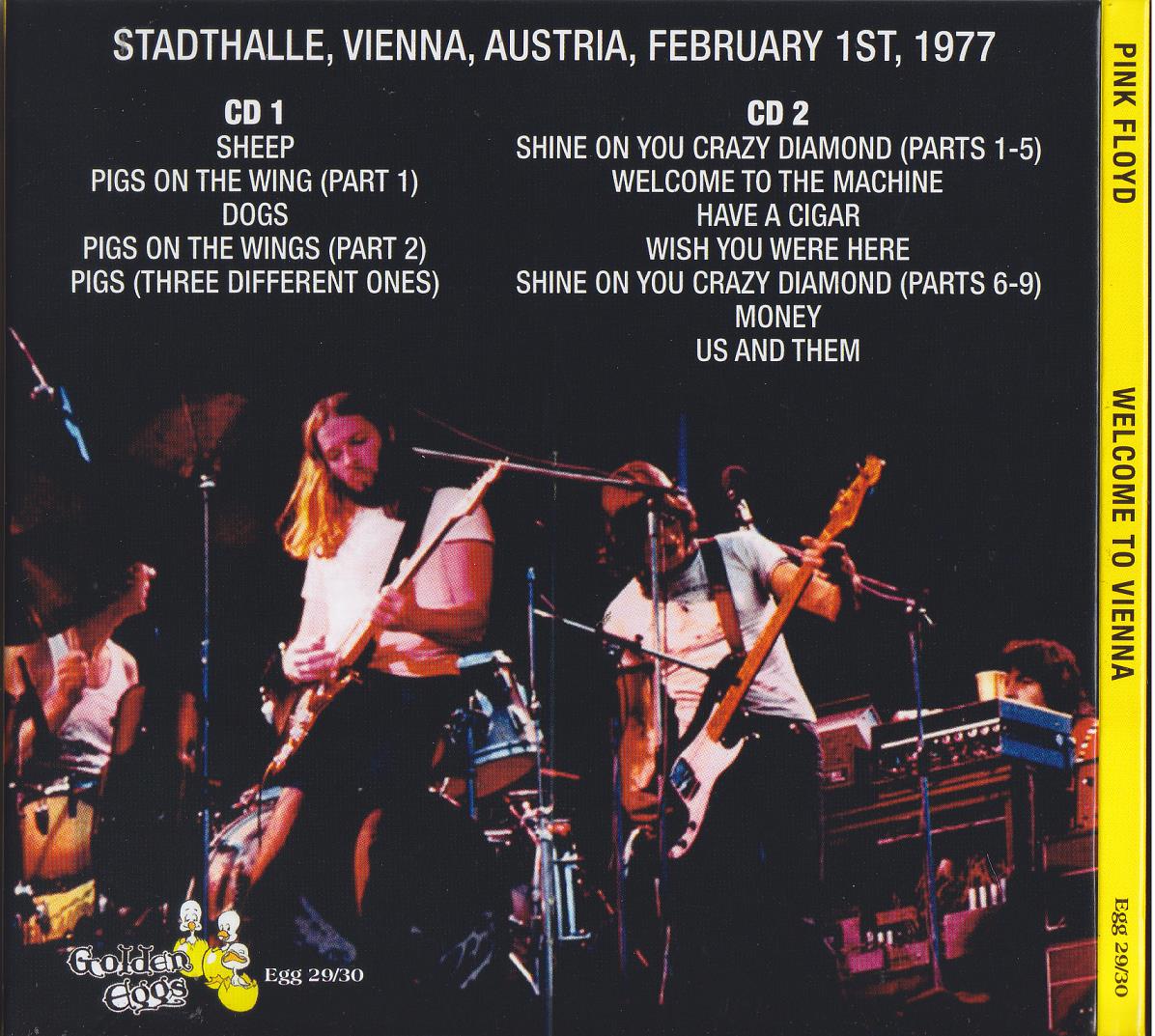 Bootleg n°3408