WESTWORLD
Date : 29/04/1970
Lieu : Fillmore West, San Francisco, California
Label : Sigma (Réf. : Sigma 4)
Support : 2 cd
Durée : 130:40 mn
Source : Audience ou soundboard
Qualité sonore : 9/10

Liste des titres :
CD1 – 60:42
01. Grantchester Meadows (7:00)
02. Astronomy Domine (10:23)
03. Tuning (1:12)
04. Cymbaline (11:34)
05. Tuning (2:08)
06. Atom Heart Mother (20:22)
07. The Embryo (11:34)
CD2 – 69:58
01. Tuning (1:00)
02. Green Is The Colour (4:36)
03. Careful With That Axe, Eugene (11:37)
04. Set The Controls For The Heart Of The Sun (15:48)
05. Tuning (2:55)
06. A Saucerful Of Secrets (22:41)
07 Tuning (2:49)
08. Interstellar Overdrive (15:51)
Commentaire : Un MUST absolu pour tout amateur de Pink Floyd. Il s'agit d'un concert complet en qualité soundboard (ou bien un enregistrement audience exceptionnel). Pour ne rien gâcher, le groupe est particulièrement en forme et cette tournée est l'une des plus intéressante de l'histoire du groupe par le choix des titres, à cheval sur les débuts psychédéliques et sur le tournant progressif et planant de la carrière de Pink Floyd.
Ce concert existe sous la forme de nombreux bootlegs dont le plus connu est certainement « Interstellar Encore ». Personnellement je ne distingue pas de différence de qualité sonore entre cette version et celle du label Sigma.
La version « Westworld » est disponible ici* : http://thewitchwoodrecords.blogspot.fr/2013/11/pink-floyd-several-species-of-great.html
ou ici :  http://www.guitars101.com/forums/f145/pink-floyd-1970-04-29-san-francisco-ca-sbd-flac-127331.html
*Assurez-vous que le téléchargement de ces fichiers ne contrevienne pas à la législation en vigueur.
Pochette: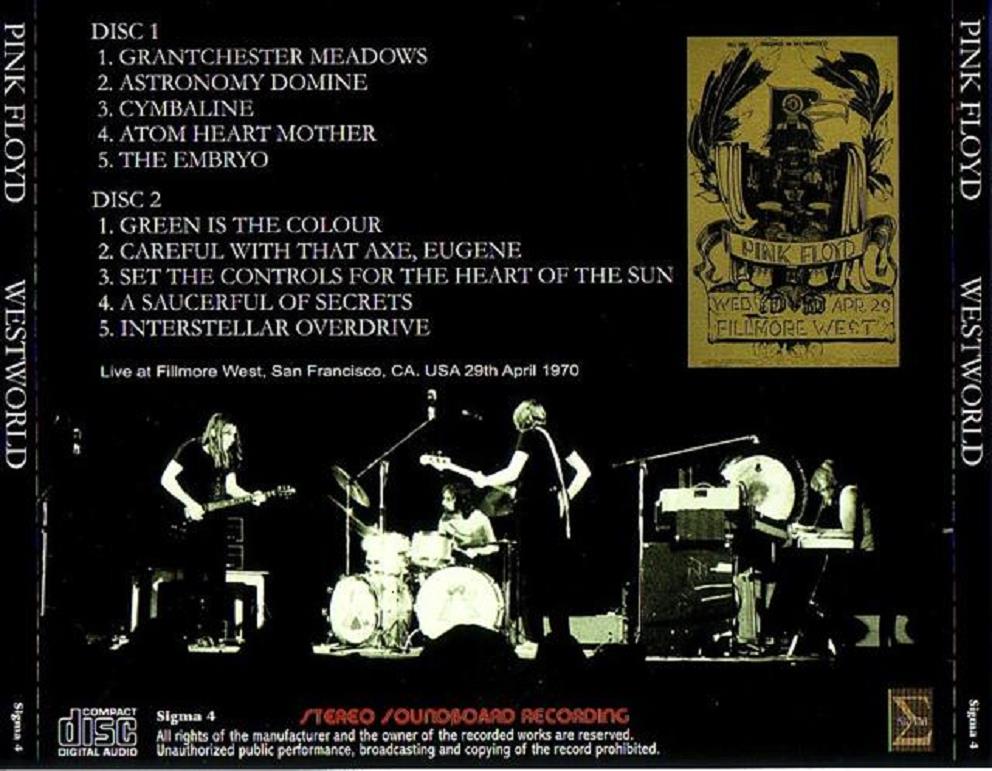 version « Definitive Westworld » :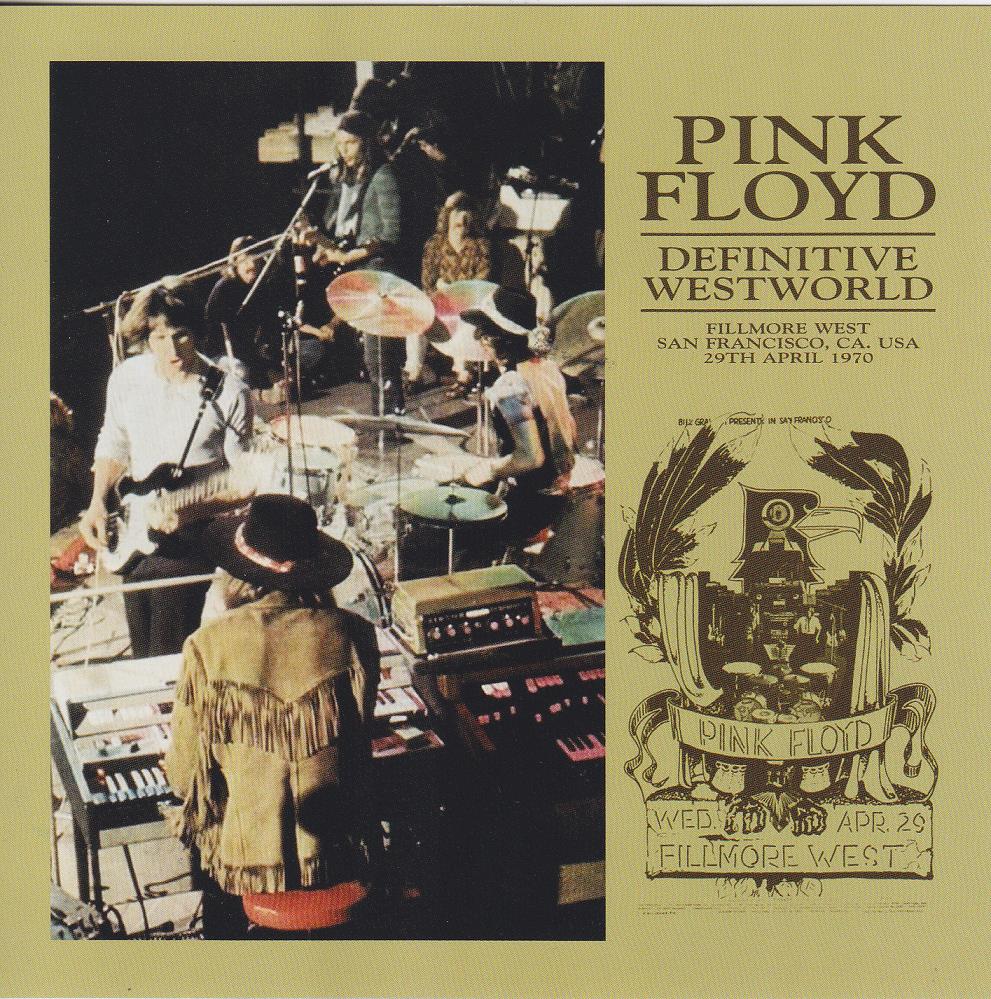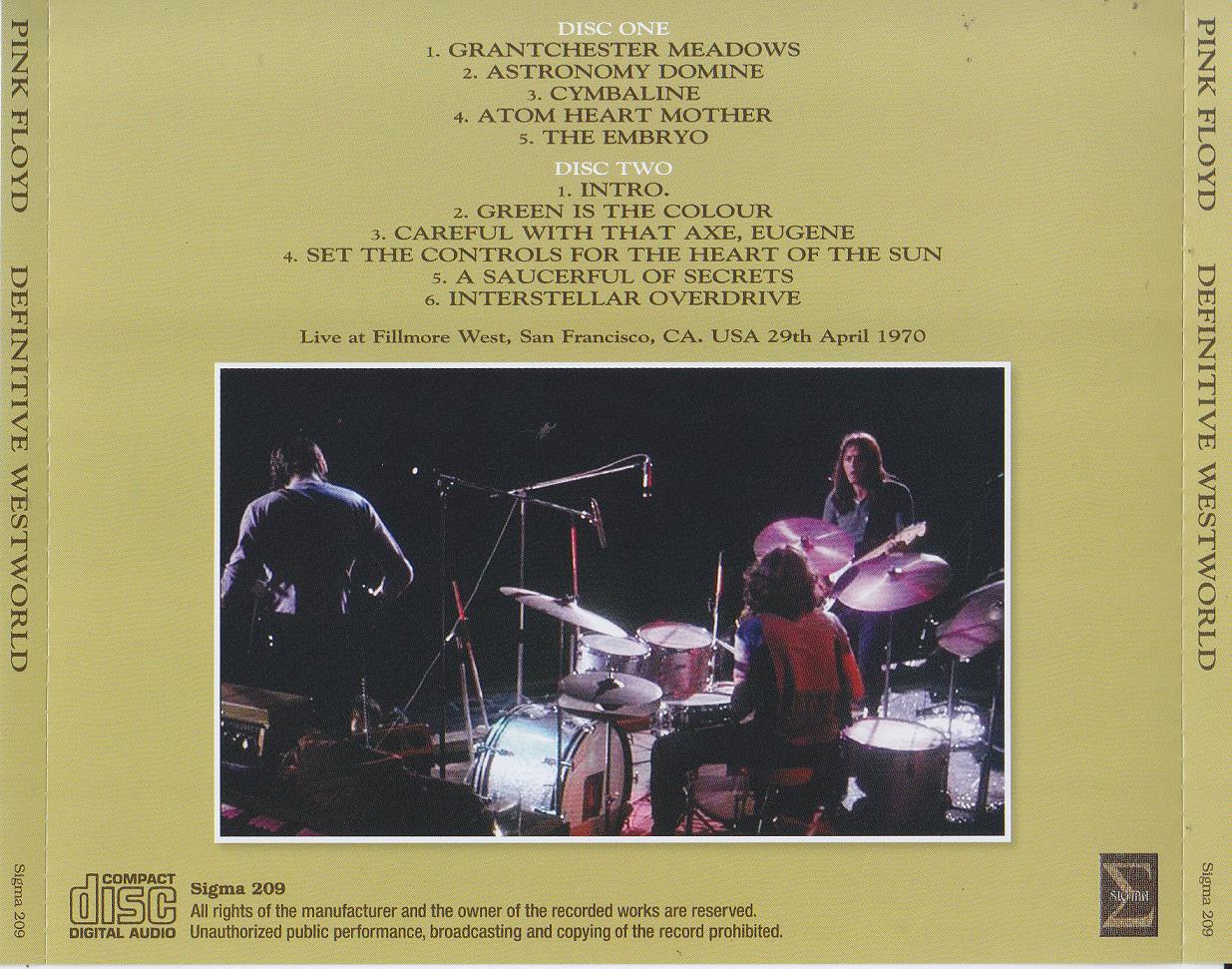 Bootleg n°3401