WHEN YOU'RE IN

Date : 17 ou 18/03/1973
Lieu : New York's Radio City Music Hall
Label : Little Pieces Production
Support : 2 cd
Durée : 122:02 mn
Source : Audience (master tape – Reeling In Pink Floyd: DVD3 Tape9)
Qualité sonore : 8 à 8,5/10

Liste des titres :
CD1 – 67:33
01-Obscured By Clouds (4:54)
02-When You're In (7:41)
03-Audience – Tuning (1:43)
04-Set the Controls for the Heart of the Sun (14:20)
05-Audience – Tuning (1:22)
06-Careful with that Axe, Eugene (13:23)
07-Audience – Tuning (0:46)
08-Echoes (23:24)
CD2 – 54:29
01-Speak to Me (3:34)
02-Breathe (2:50)
03-On the Run (5:28)
04-Time (5:46)
05-Breathe (Reprise) (1:04)
06-The Great Gig in the Sky (5:55)
07-Money (6:00)
08-Us and Them (2:41)
09-Any Colour You Like (7:04)
10-Brain Damage (3:37)
11-Eclipse (1:56)
12-One of These Days (8:34)
Commentaire :  Après des années de controverses, l'unanimité semble s'être faite sur les faits suivants : Pink Floyd a bien donné un concert au Radio City Music-Hall de New York la veille du concert de Waterbury. Personne ne sait si le concert de Waterbury du 18 mars a été enregistré. De nombreux bootlegs sont attribués à tort à la date du 18 mars alors qu'ils dateraient du 17 mars.
La confusion provient du fait que Pink Floyd devait jouer à New York le 17 mars au soir mais qu'en raison de problèmes techniques, le concert n'a commencé qu'après minuit, donc déjà le 18 mars! La confusion a aussi été entretenue par le fait que le concert de New York a été enregistré par plusieurs personnes distinctes (au moins trois à ma connaissance), ce qui fait que les bandes en circulations sont assez diverses les unes des autres et que certains ont cru qu'il s'agissait de deux concerts différents.
Quoi qu'il en soit, et en attendant que la preuve soit établie qu'il existe quelque part un enregistrement du concert de Waterbury, tous les bootlegs actuellement en circulation proviennent du concert de New York.
La version « When you're in » paraît tourner à la bonne vitesse, contrairement à d'autres versions en circulation, mais le son fluctue par moment, variant entre le très bon et le moyen ce qui est du à la bande d'origine et pas au travail réalisé par l'équipe de Little Pieces.
Disponible ici * : sur demande / on request

*Assurez-vous que le téléchargement de ces fichiers ne contrevienne pas à la législation en vigueur.
Autres bootlegs du même concert dans ma collection :

Pochette :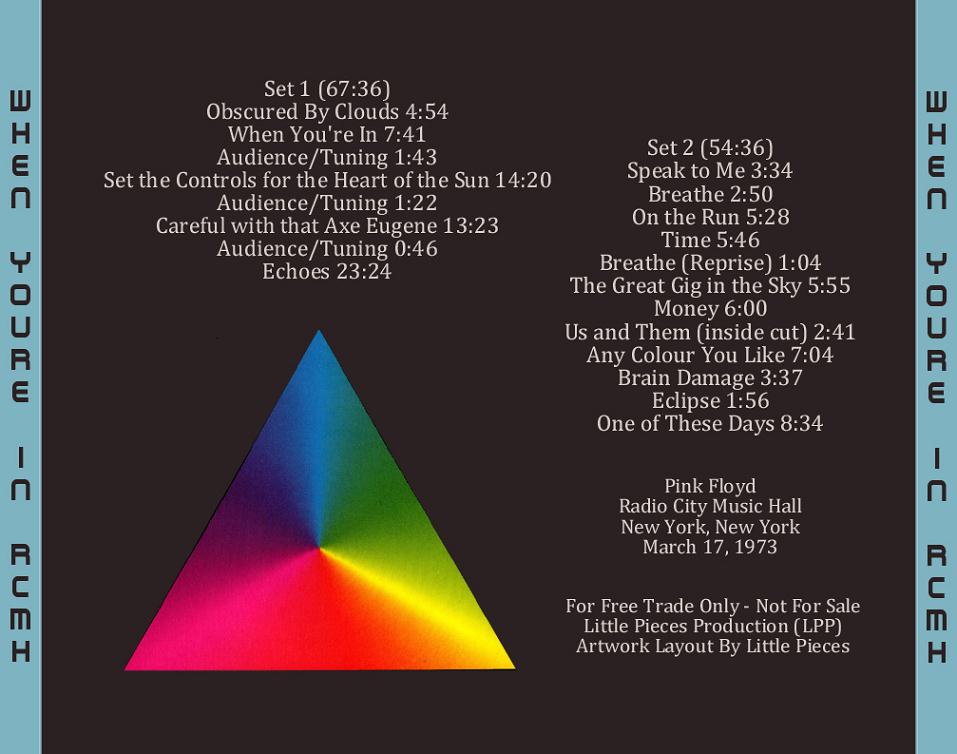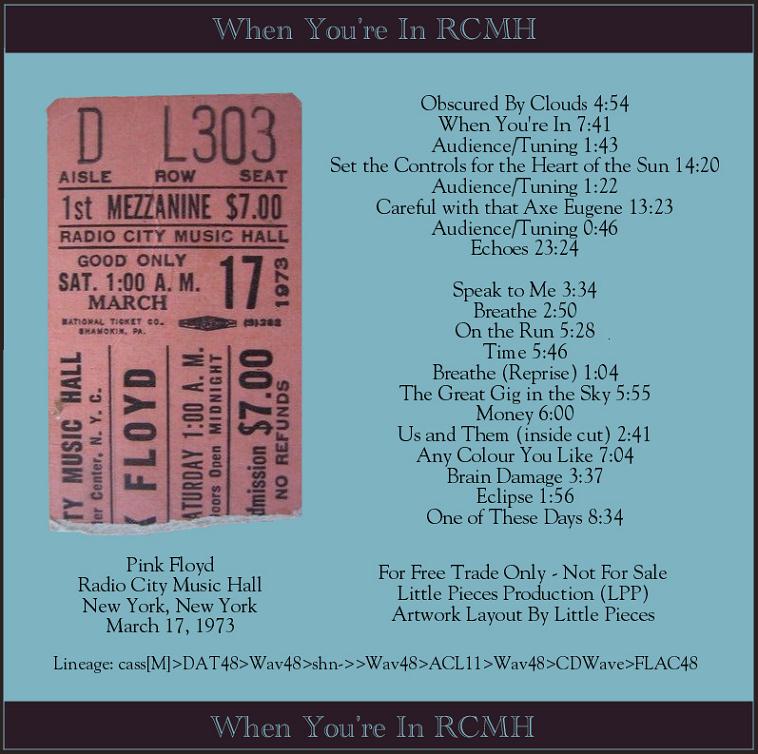 Bootleg n°1750