A 5280Hz WAVE

Date : 12/09/1987
Lieu : McNichols Sports Arena, Denver, Colorado
Label : Digital Reproductions (Ref. : DR 91287-5)
Support : 3 cd
Durée : 194:05 mn
Source : FM (voir commentaire)
Qualité sonore : 6,5 à 7/10

Liste des titres :
CD1
Rush : The Spirit of Radio (5:44)
Call from the Hall 1 (1:18)
Commercial: Club Nowhere (1:38)
Call from the Hall 2 (1:32)
Tempted (4:35)
Radio Waves (5:08)
Welcome to the Machine (9:08)
Who Needs Information (6:51)
Money (5:37)
Commercial: Bimbo School (0:53)
In the Flesh (3:08)
Have a Cigar (3:19)
Pigs (3:37)
Wish You Were Here (5:18)
Mother (7:59)
Molly's Song (3:24)
Me or Him (5:13)
The Powers That Be (4:45)
CD2
Intermission w/ Jim Ladd (6:01)
Calls to Roger (4:19)
Commercial: Shredding (1:00)
Going to Live in L.A. (6:05)
Sunset Strip (4:11)
Fish Report with a Beat (2:41)
Get Your Filthy Hands off My Desert (0:42)
Southampton Dock (2:46)
Arnold Layne (2:52)
If (3:53)
Every Stranger's Eyes (5:08)
Not Now John (5:00)
Another Brick in the Wall, Part 1 (4:29)
The Happiest Days of Our Lives (1:32)
Another Brick in the Wall, Part 2 (5:54)
Nobody's Home (4:05)
Home (6:17)
Countdown (1:35)
Four Minutes (4:04)
The Tide is Turning (6:46)
CD3
Band Introductions (2:50)
Brain Damage (3:45)
Eclipse (4:06)
Interviews
Interview #1 (4:22)
Interview #2 (8:50)
Interview #3 (8:24)
Interview #4 (3:09)
Commentaire : La quantité y est, c'est sûr, avec 25 minutes d'interview en bonus, mais question qualité, c'est très bof. D'après les indications de pochette, il s'agirait d'un enregistrement FM, ce que confirme la présence de 25 minutes de jingles et pub diverses, pourtant ça sonne comme un enregistrement audience. Cela tient probablement à la manière dont la diffusion radiophonique a été repiquée. Comme le son est en mono, on peut supposer que l'auteur de ce repiquage disposait d'un matériel de très piètre qualité. C'est vraiment dommage car les concerts de Waters radiodiffusés ne sont pas légion.

Disponible ici* :  pas disponible pour le moment

*Assurez-vous que le téléchargement de ces fichiers ne contrevienne pas à la législation en vigueur.  
Pochette :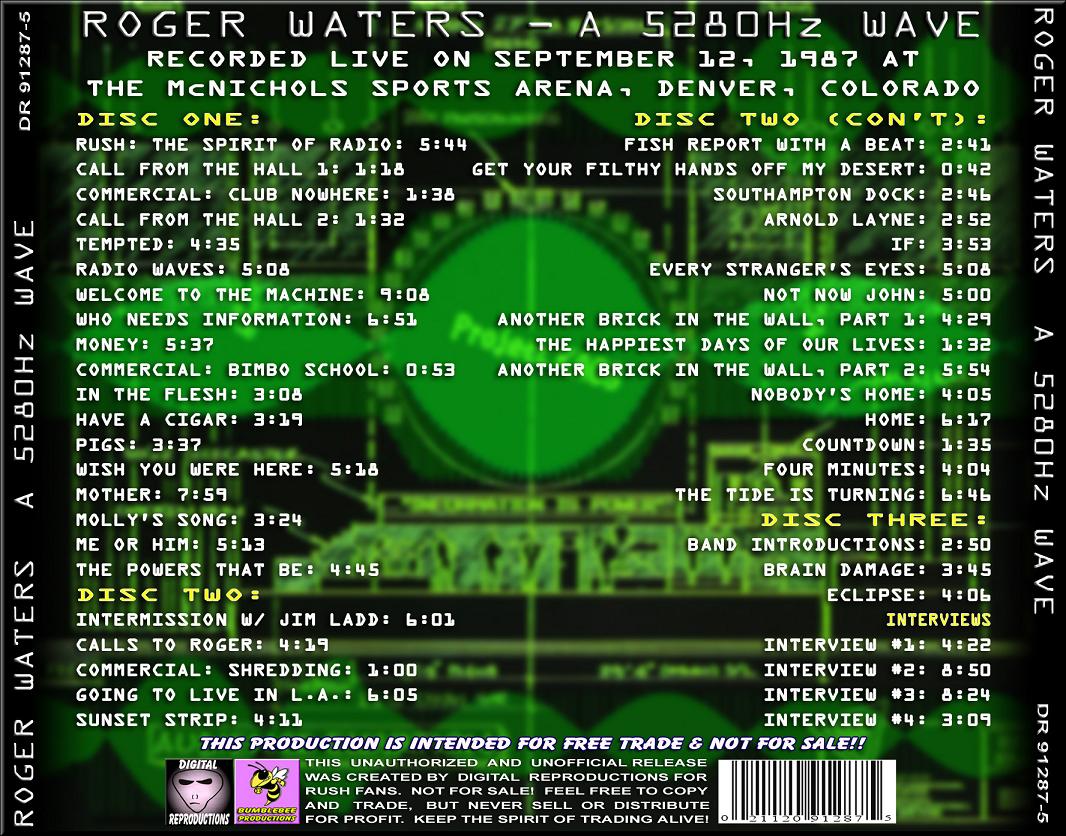 Bootleg n°1570