IT WAS THE GREATEST SHOW ON EARTH
aka
THE HAPPIEST NIGHT OF OUR LIVES

Date : 05/03/2002
Lieu : Estadio Nacional, Santiago, Chili
Label : HCV (version « THE HAPPIEST DAYS OF OUR LIVES »)
Support : 3 cd
Durée : 158:56 mn
Source : pre-FM
Qualité sonore : 9,5/10

Liste des titres :
CD 1 – 71:48
101. In The Flesh
102. The Happiest Days Of Our Lives/Another Brick In The Wall (Part II)
103. Mother
104. Get Your Filthy Hands Off My Desert/Southampton Dock
105. Pigs On The Wing (Part I)
106. Dogs
107. Shine On You Crazy Diamond (Parts I-V)
108. Welcome To The Machine
109. Wish You Were Here
110. Shine On You Crazy Diamond (Parts VI-IX)
CD2 – 58:30
201. Set The Controls For The Heart Of The Sun
202. Speak To Me/ Breathe (In The Air)
203. Time/Breathe (Reprise)
204. Money
205. The Pros And Cons Of Hitch Hiking part XI (AKA 5:06 AM Every Strangers Eyes)
206. Perfect Sense (Parts I & II)
207. The Bravery Of Being Out Of Range
208. It's A Miracle
209. Amused To Death
CD3 – 28:38
301. Brain Damage
302. Eclipse
303. Band Introduction
304. Comfortably Numb
305. Each Small Candle
Commentaire : Ce concert d'une qualité sonore excellente existe en de nombreuses versions qui diffèrent selon qu'elles proviennent de la radio (version FM diffusée sur Futuro Radio) ou qu'il s'agisse de version pre-FM. La meilleure version semble être « THE HAPPIEST DAYS OF OUR LIVES » qui contient la version pre-FM. Sa pochette indique qu'il s'agit d'un double CD, mais on peut aussi le trouver en version 3 CD avec le découpage indiqué ci-dessus.
Version « THE HAPPIEST DAYS OF OUR LIVES » disponible ici* : http://bootleg-addiction-forever.blogspot.fr/2015/01/roger-waters-happiest-night-of-our-lives.html
ou bien ici* : http://www.guitars101.com/forums/f145/roger-waters-2002-03-05-santiago-cl-sbd-flac-128922.html

Version « LIVE FLESH CHILE » disponible ici* :http://vivalesbootlegs.blogspot.fr/2012/04/roger-waters-live-flesh-chile-stadio.html
*Assurez-vous que le téléchargement de ces fichiers ne contrevienne pas à la législation en vigueur.  
Pochette :
version « THE HAPPIEST DAYS OF OUR LIVES » :
version « IT WAS THE GREATEST SHOW ON EARTH » :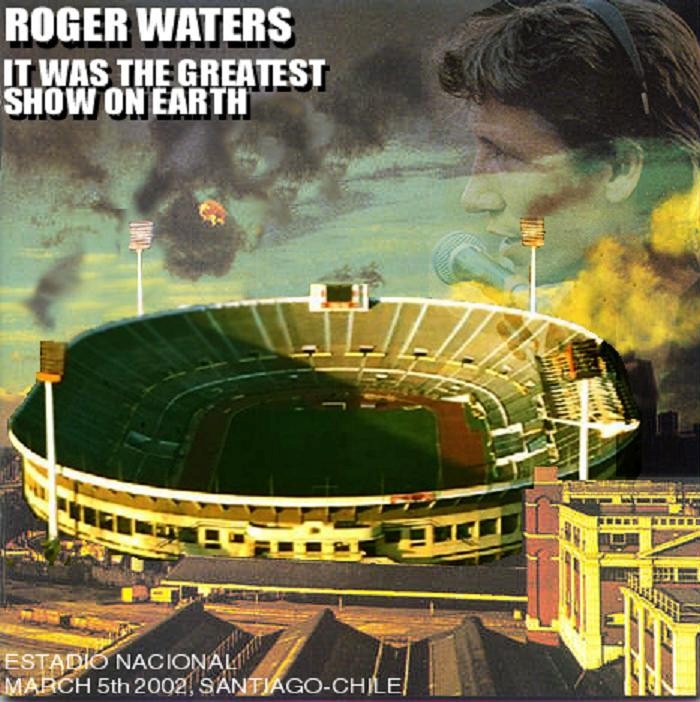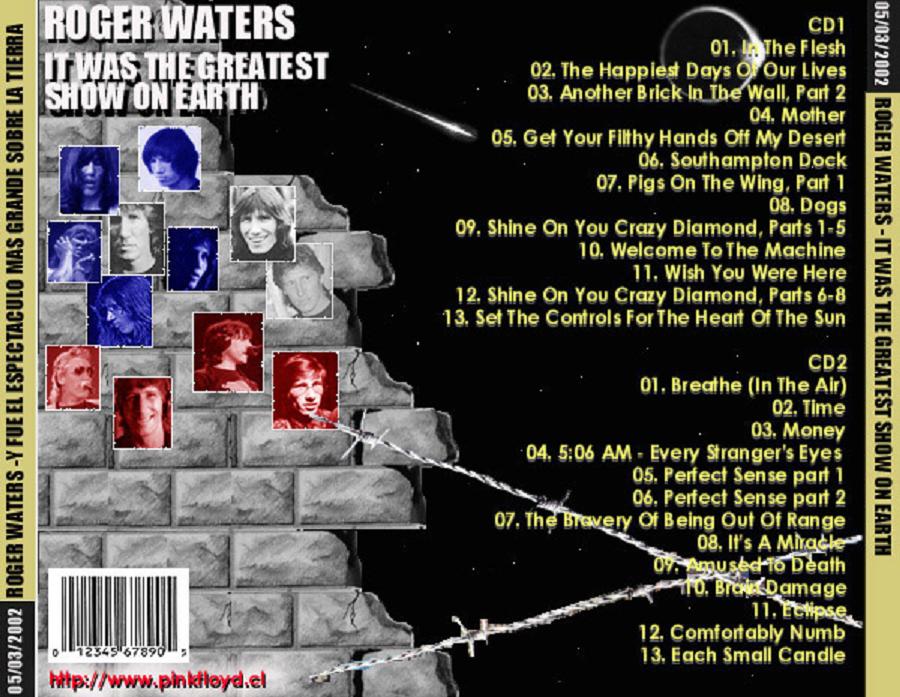 version alternative :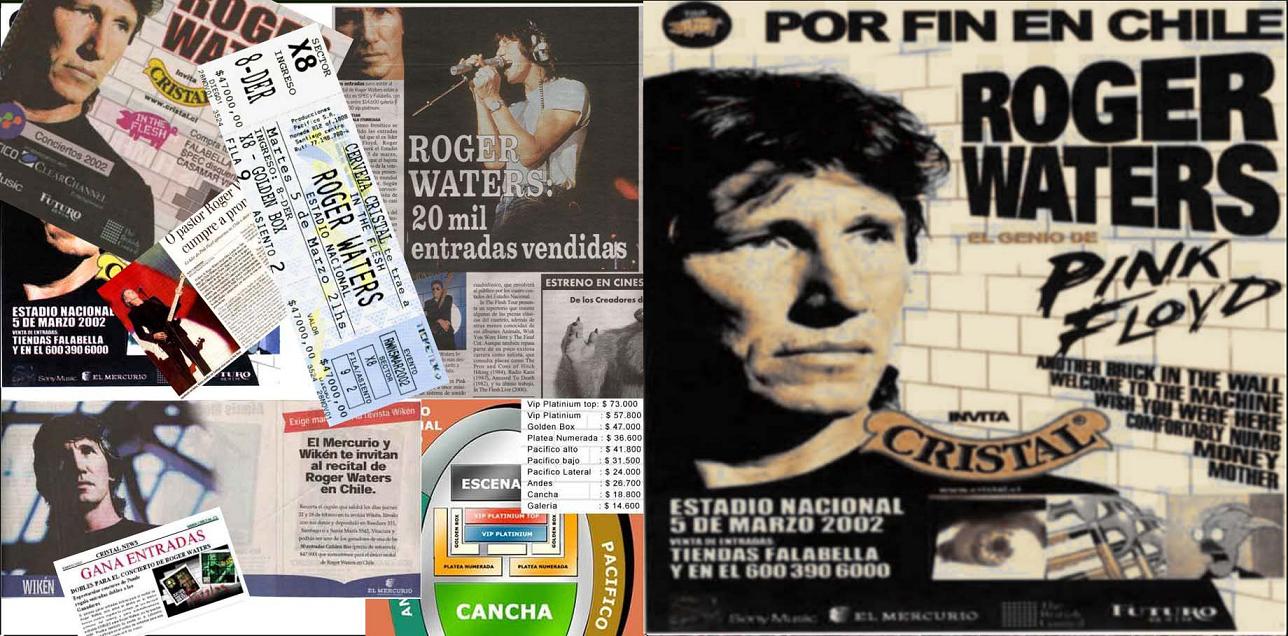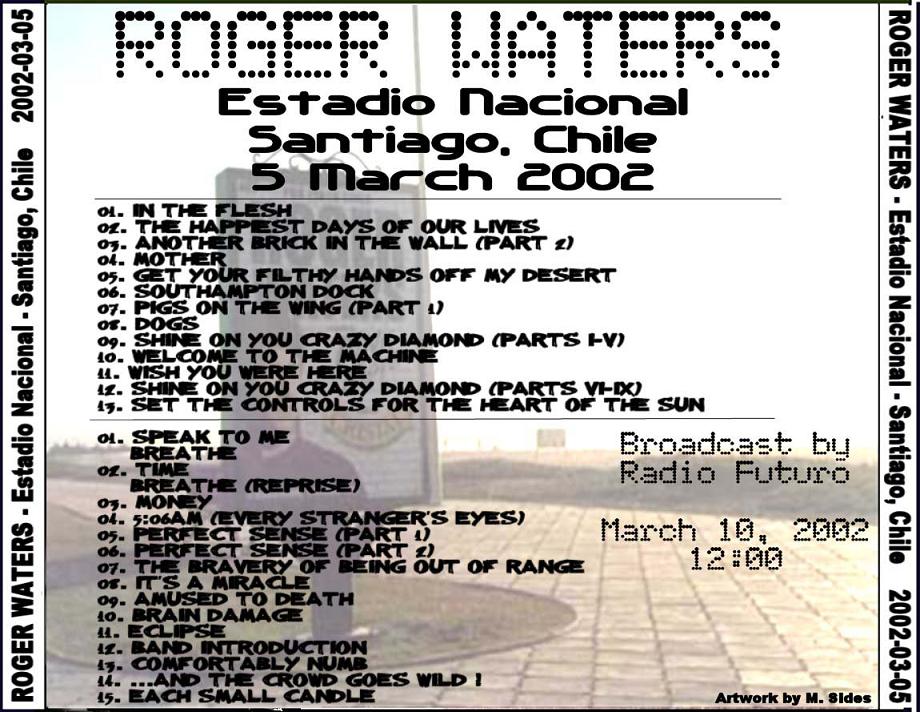 Bootleg n°1574