FLIGHT OF THE SPARROW

Date : 27/08/1968
Lieu : Fillmore West, San Francisco, CA
Label : Head
Support : 1 cd
Durée : 73:33 mn
Source : Soundboard ?
Qualité sonore : 8/10

Liste des titres :
01-Your Walls Too High (12:30)
02-Hoochie Coochie Man (5:46)
03-Born To Be Wild (7:58)
04-Desperation (6:38)
05-Tighten Up Your Wig (4:13)
06-Disappointment Number (Unknown) / Lost And Found By Trial And Error / Hodge, Podge, Strained Through a Leslie / Resurrection (20:09)
07-Baby Please Don't Go (10:14)
08-The Pusher (6:05)
Commentaire : Version légèrement incomplète d'un concert publié sous la forme de nombreux bootlegs comme par exemple « Fillmore West 1968 », qui est disponible ici. La version Flight of the Sparrow tire son titre du nom du premier groupe fondé par John Key, « The Sparrow »; elle dispose d'une qualité sonore assez bonne. A comparer avec celle du bootleg mentionné ci-dessus. Les avis divergent sur la meilleure. Pour se faire une idée, on peut télécharger les deux.
La version « Flight of the Sparrow » est disponible ici :  https://1fichier.com/?pl5yfk1kak95fqo1z43q
Pochette :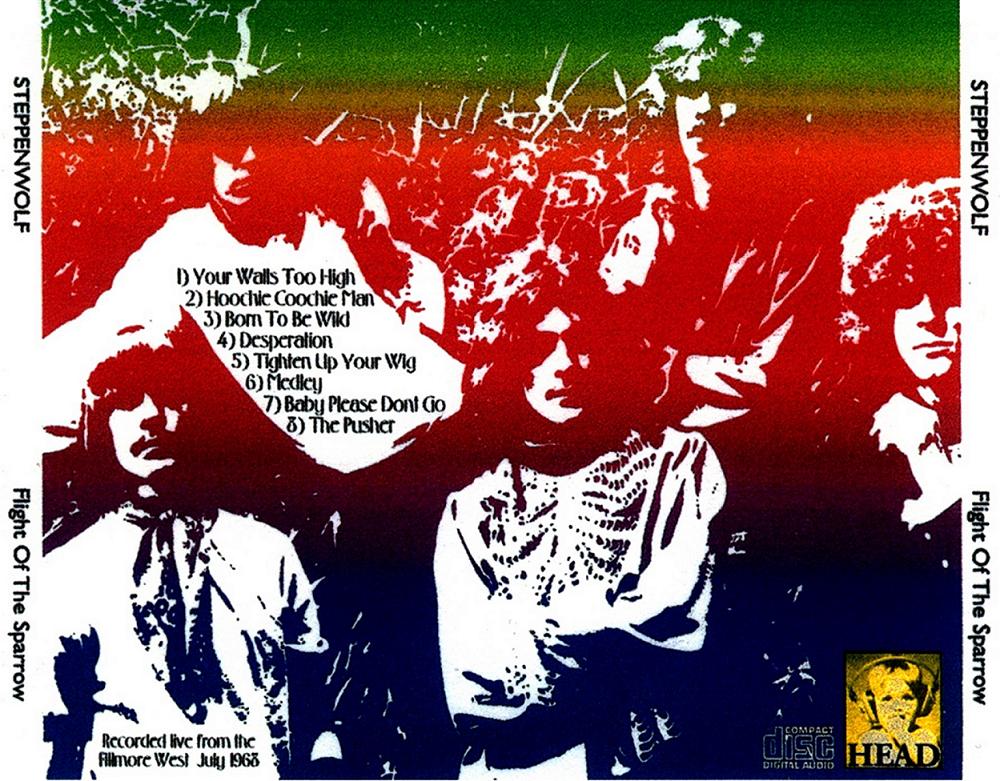 Bootleg n°1606