SMILE (A RECONSTRUCTION)
Date : 1967
Lieu : Studio
Label : Purple Chick (Ref. : PC-66)
Support : 1 cd
Durée : 76:51 mn
Sources : studio (voir détail sur le scann du livret de la pochette)
Qualité sonore : 9/10 à 10/10

Liste des titres :
1. Our Prayer / Gee (1:53)
2. Heroes And Villians (4:20)
3. Roll Plymouth Rock (3:42)
4. Barnyard (0:56)
5. Old Master Painter / You Are My Sunshine (1:08)
6. Cabin Essence (3:34)
7. Wonderful (2:00)
8. Song For Children (2:11)
9. Child Is Father Of The Man (2:19)
10. Surf's Up (4:11)
11. I'm In Great Shape / I Wanna Be Around / Workshop (1:49)
12. Vega-Tables (2:22)
13. On A Holiday (2:34)
14. Wind Chimes (2:57)
15. Mrs. O'Leary's Cow (2:30)
16. In Blue Hawaii (2:56)
17. Good Vibrations (4:13)
Very Unnecessary Bonus Tracks:
18. Vega-Tables (vocals only) (2:16)
19. Our Prayer / Gee (mono) (1:52)
20. Heroes And Villians (mono) (4:49)
21. Roll Plymouth Rock (mono) (3:38)
22. Child Is Father Of The Man (mono) (2:21)
23. Surf's Up (alternate) (4:23)
24. I'm In Great Shape / I Wanna Be Around / Workshop (mono) (1:59)
25. Vega-Tables (mono) (2:21)
26. In Blue Hawaii (with mono sections) (2:58)
27. Good Vibrations (stereo – original lyrics) (4:09)
Commentaire : L'album « Smile » est l'un des plus célèbres albums fantômes de toute l'histoire du rock (l'autre étant le « Black album » de Prince). Un album fantôme est un album qui a été enregistré mais, pour des raisons diverses, n'a jamais été publié. Ce cas de figure est en réalité très fréquent. Presque tous les grands groupes ont connu de telles péripéties. Souvent, le refus de sortir l'album s'expliquait parce que le groupe n'était pas satisfait du résultat, ou bien c'était la maison de disque qui n'était pas satisfaite. Certains albums fantômes ont acquis une célébrité exceptionnelle car au moment où les enregistrements ont sombré dans les limbes, le groupe était à son apogée créatrice et l'album en question était attendu comme le messie par les fans. A chaque fois, l'annulation de la sortie de l'album a engendré toutes sortes de rumeurs et fait naître un mythe.
En ce qui concerne le « Smile » des Beach Boys, il s'inscrit le contexte particulier de la rivalité qui opposait le groupe aux Beatles. Le succès de « Revolver » avait stimulé le génie créateur de Brian Wilson, qui avait composé « Pet Sounds ». Les Beatles avaient beaucoup été impressionnés. Ils avaient répliqué par « Sergent Pepper's Lonely Heart Club Band ».
Nul ne sait vraiment si c'est la perfection de l'album des Beatles qui fit disjoncter Brian Wilson ou bien si c'est l'abus de drogues, ou encore la réticence des autres membres du groupe à s'embarquer dans un projet aussi expérimental, probablement ces trois raisons ayant joué, mais il commença à sombrer dans la folie à partir de ce moment là.
Les heures de bandes déjà enregistrées furent mise au placard, sauf les morceaux les plus aboutis, qui furent utilisés pour composer un ersatz intitulé « Smiley Smile ». Cet album de secours vit le jour pour des raisons purement contractuelles. D'autres chutes de « Smile » ressortirent sur les albums suivants (« Friends », « 20/20 » ou « Surf's Up »), notamment les chansons « Our Prayer », « Cabinessence » ou « Surf's Up ». D'autres chutes des sessions de Smile furent dévoilées aux fans sur la réédition du catalogue des Beach Boys en CD par le label Capitol dans les années 90, sous la forme de titres bonus.
Enfin, en 2004, Brian Wilson, réputé guéri après une trentaine d'années de névrose profonde, se décida à ré-enregistrer « Smile » depuis le début et tel qu'il aurait rêvé de pouvoir le faire en 1967 s'il n'avait pas du subir les limitations de la technique, celles du temps imparti par sa maison de disque et celles causées par la mauvaise grâce des autres membres du groupe.
Mais un ré-enregistrement, aussi fidèle à l'esprit initial soit-il, ce n'est pas un enregistrement original. D'où l'émergence de plusieurs versions de ce qu'aurait du, ou de ce qu'avait du être l'œuvre originale. Pour cela, les bootlegers ont pioché dans le matériel disponible : tous les titres finalement sortis sur différents albums de la fin des années soixante et du début des années 70, ainsi que les nombreuses sessions éparpillées sur les disque et coffrets CD des Beach Boys (en particulier la grande compilation « 30 Years of the Beach Boys »).
Parmi les différentes versions de cette reconstruction, les différences sont parfois importantes. Celle du label Vigotone, par exemple, vise plutôt à présenter les différentes options de « Smile », sachant que Brian Wilson disposait d'un matériel énorme, comportant de multiples versions des mêmes chansons, et qu'il hésitait lui-même sur la configuration que prendrait l'ensemble, lorsqu'il finit par tout abandonner en 1967. C'est pourquoi cette version comporte deux CD. Mais il aurait pu y en avoir tout aussi bien 5. D'ailleurs, les « Smile sessions » ont récemment été publiée (officiellement) sous la forme d'un coffret 5 CD.
La version de Purple Chick, à l'inverse, à fait le choix de la perfection sonore, optant pour les versions le plus abouties de chaque chanson et soignant particulièrement les transitions. Il n'y a plus qu'un CD mais – à mon avis – c'est plus fidèle à l'esprit originel et plus agréable à écouter. Chacun pourra faire son choix.
Disponible ici : http://dfiles.eu/files/f8qvy1slw
Pochette :
Livret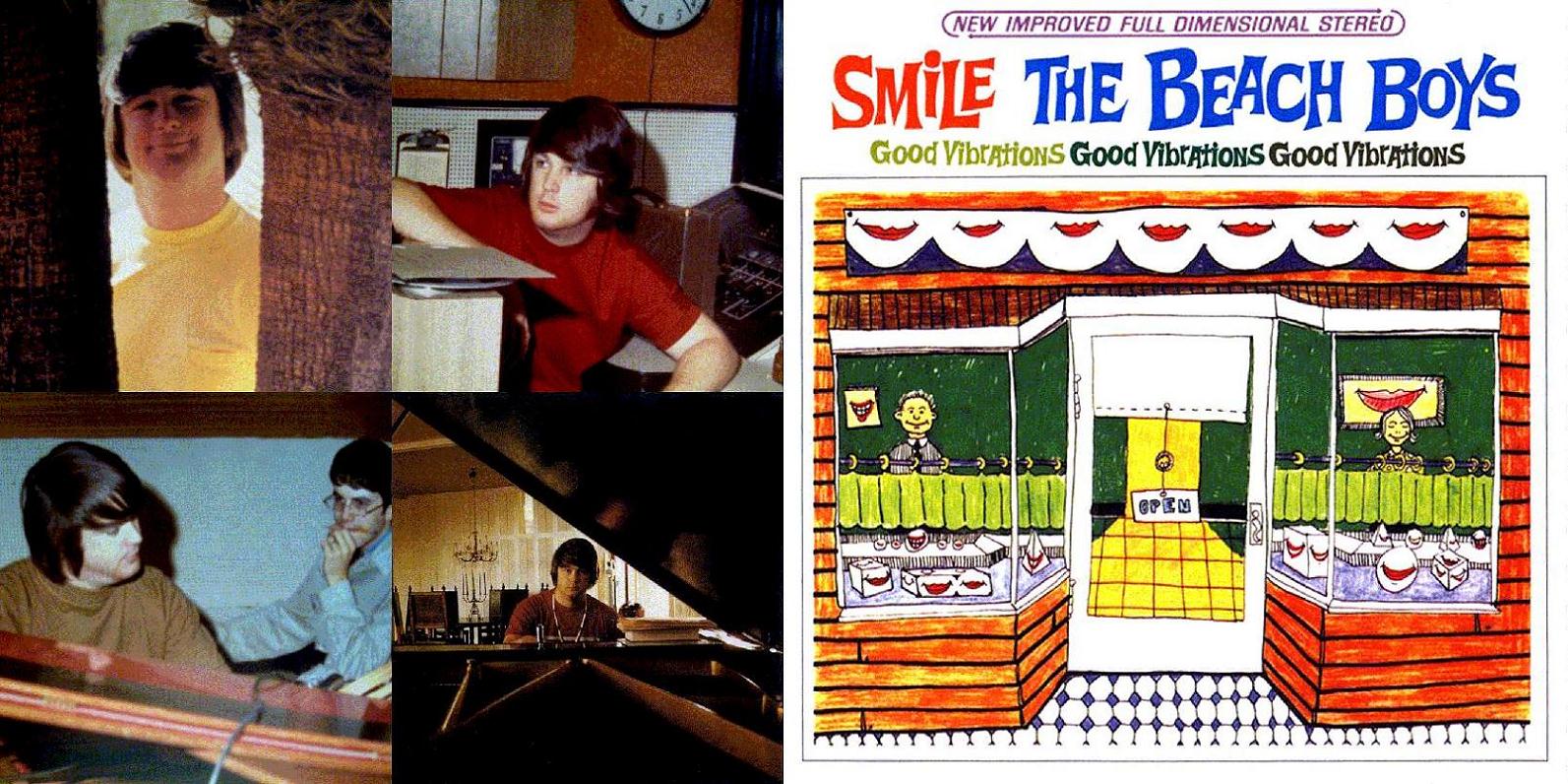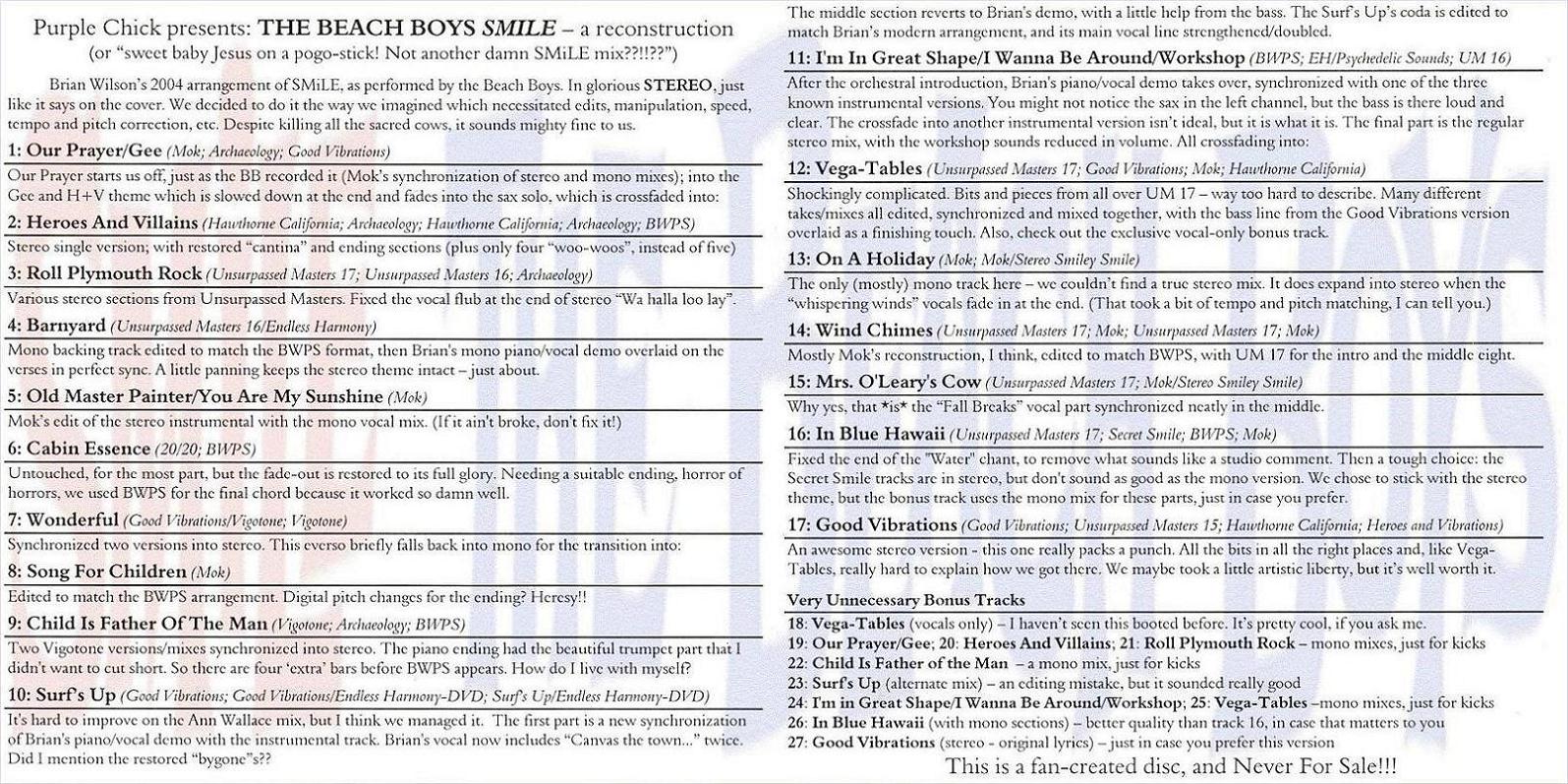 Dos
Bootleg n°357