MIDNIGHT SPECIAL AT THE SCREEN ON THE GREEN

Date : 29/08/1976
Lieu : Screen on the green, Islington, London
Label : Punk Vault (Réf. : PVCD 2170)
Support : 1 cd
Durée : 36:16 mn
Source : ?
Qualité sonore : 7,5/10

Liste des titres :
1. Deny (4:58)
2. I Know What ToThink About You (4:21)
3. I Neved Did It (2:15)
4. How Can I Understand The Flies (2:41)
5. Janie Jones (3:08)
6. Protex Blue (2:40)
7. Mark Me Absent (2:20)
8. Deadly Serious (1:29)
9. What's My Name (2:03)
10. Sitting At My Party (1:50)
11. 48 Hours (1:47)
12. I'm So Bored With You (2:34)
13. London's Burning (2:05)
14. 1977 (2:05)

Commentaire et disponibilité : Ce court concert présente l'intérêt d'être le premier concert de Clash jamais enregistré. Le son n'est pas excellent mais largement assez bon pour se faire une idée de ce qu'était le groupe à son tout début. Les Clash avaient donné leur premier concert 2 mois plus tôt, le 4 juillet à Sheffield, déjà en première partie des Sex Pistols. Ici, ils partagent la première partie avec les Buzzcocks.
Ce concert fait partie d'un double CD qui contient les performances de Clash, des Buzzcocks et des Pistols (voir pochette ci-dessous). La partie des Clash est disponible ici (en mp3)* : http://www.mediafire.com/download/lc34led9y8fnzbf/The+Clash+-+001-+Screen+on+the+Green+%28London%2C+England%29+%2829-08-1976%29.rar
*Assurez-vous que le téléchargement de ces fichiers ne contrevienne pas à la législation en vigueur.
Musiciens :
Keith Levene : lead guitar
Mick Jones : rhythm guitar
Terry Chimes : drums
Joe Strummer : vocals
Pochette :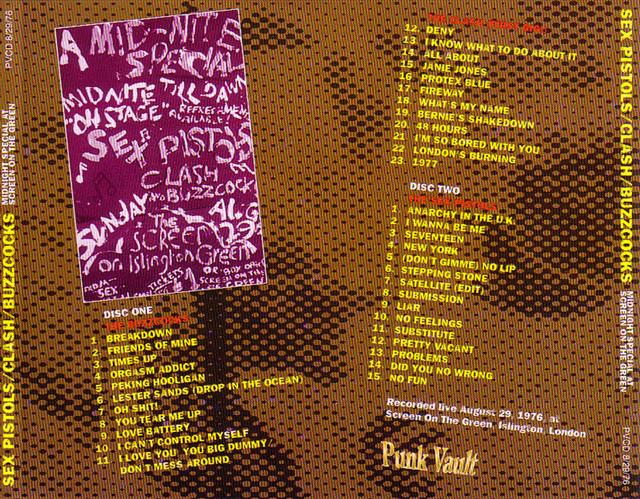 Bootleg n°283