NO TITLE
aka FESTIVAL PUNK MONT-DE-MARSAN

Date : 05/08/1977
Lieu : Punk festival Mont-de-Marsan, France
Label : Cedar / Archivio (Ref. : ARC 016)
Support : 1 cd
Durée : 35:10 mn
Source : Soundboard
Qualité sonore : 8,5/10

Liste des titres :
1/ Fall out (Copeland) (1:57)
2/ Next to you* (Sting) (2:57)
3/ Visions of the night (Sting) (2:28)
4/ Games to play** (Sting) (2:38)
5/ Clouds in Venice (Sting / Copeland) (2:21)
6/ Three o'clock (Sting) (2:47)
7/ Nothing achieving (Sting) (1:51)
8/ To fuck I want*** (Sting) (1:53)
9/ Fall out (Copeland) (2:53)
10/ How are you (Sting) (1:34)
11/ I don't wanna be your number**** (Sting) (2:20)
12/ Visions of the night [Encore] (Sting) (3:10)
13/ Nothing achieving (Sting) (2:35)
* aka « Landlord »
** aka « Kids to blame »
*** aka « It's My Life »
**** aka « Dead end job »
version alternative (durée : 31:10) :
1.Landlord (4:04)
2.Visions of the night (2:40)
3.Kids to Blame (2:48)
4.Clouds in Venice (2:42)
5.Three O`Clock Shit (3:01)
6.Nothing Achieving (2:04)
7.It`s my Life (3:08)
8.Fall Out (1:48)
9.How Are You (2:41)
10.Dead End Job (3:24)
11.Visions Of The Night (3:00)

Commentaire : Mon seul concert de la période « punk » de Police. La fin du commentaire ci-dessous résume à peu près l'intérêt de leur musique à cette époque. Il s'agit du deuxième et dernier concert donné par Police dans sa configuration à quatre membres. L'autre concert est celui de la Music Machine, à Londres, le 25 juillet précédent. Voici quelques autres informations (en anglais) à propos de la rupture avec leur premier guitariste (Henri Padovani), du festival de Mont-de-Marsan et de la performance de police :
The Police performed on the first day of an open air punk festival in the South of France, which was held on 05-08-1977 and 06-08-1977 in a small open air arena. On the first day there were also performances of: The Clash, The Damned, The Boys, The Rich Kids, Electric Kellar and Asphelt Jungle.
Before the concert Andy and Henri were quarrelling about their qualities. The two guitars were dominating during the whole show. The Police performed five songs which have never been released. The show was full of energy and there was no number which lasted longer than 3 minutes.
After The Police was introduced on stage Sting said: « Ça va? What? Ça va? We're gonna play some songs you won't understand. Turn this off ».
The Police performed Kids To Blame which appeared on Curved Air's album « Airborne » and was written by Norma Tager (lyrics) and Stewart Copeland (music).
« This tune … can you turn these monitors off, I can't hear myself … this tune is called Clouds In Venice ».
Three O'Clock Shit was written by Sting, but the original title was something like Love Is In My Heart. After hearing this title Stewart changed it into Three O'Clock Shit, which would appeal much better to the audiences they were playing to. Seven years later, in 1983, Sting used the first stanza of this song for the first stanza of O My God.
The Police also performed their version of It's My Life (Atkins/D'Errico), which was a UK Top 10 and US Top 30 hit for The Animals in 1965.
The Police's performance was mentioned in a review about the festival in Melody Maker: « The Police making their first appearance with veteran guitarist Andy Summers (an incongruous) recruit to the new wave, succeed this debacle (they made an impact on the audience). They perform competently, and Summers delivers some guitar breaks, but the music as yet lacks any real identity. And the sight of Summers pogoing and going down on the bass guitarist is more than a little disconcerting ».
Disponible ici*
*Assurez-vous que le téléchargement de ces fichiers ne contrevienne pas à la législation en vigueur.    
Pochette :
Livret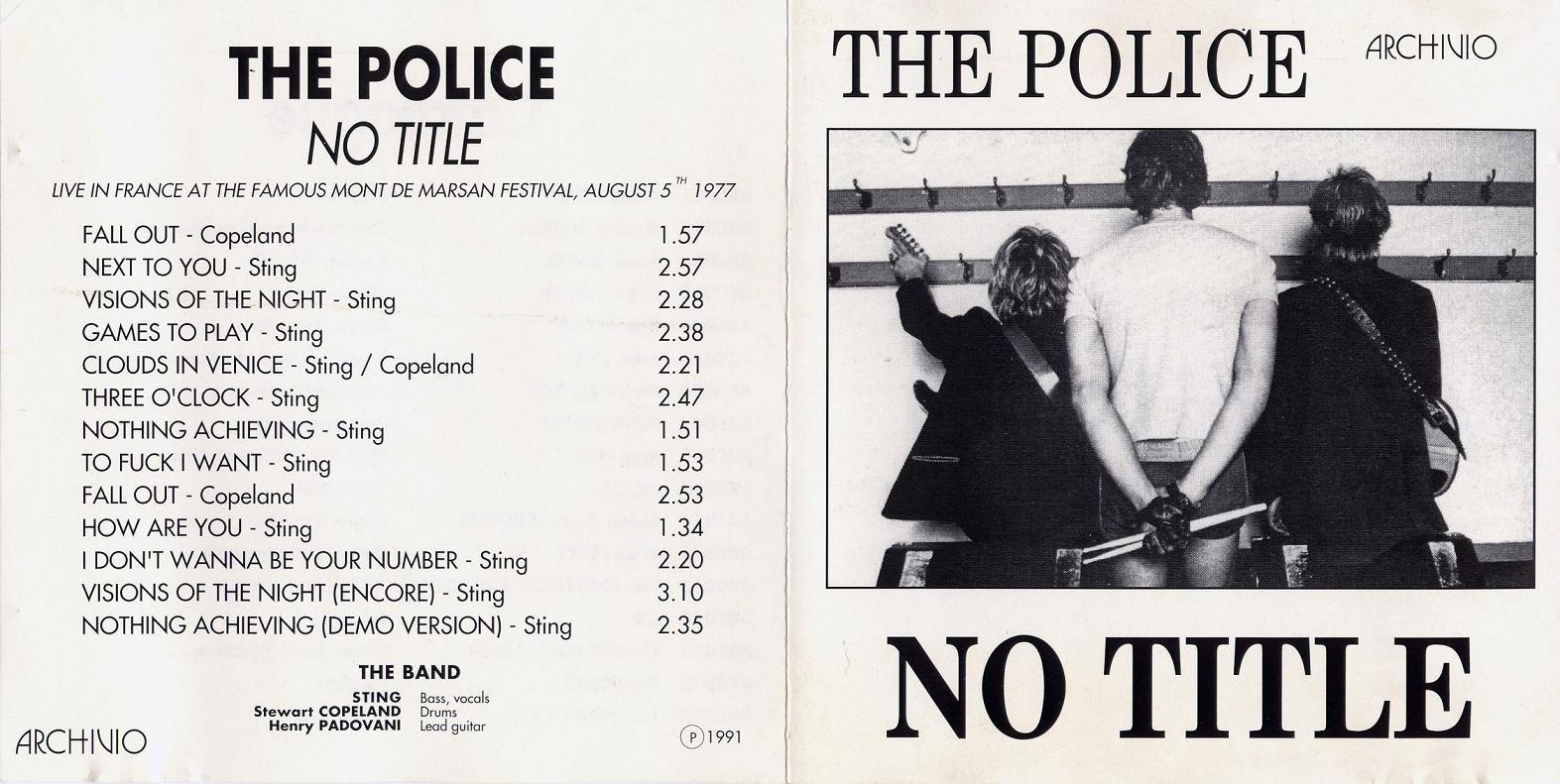 Dos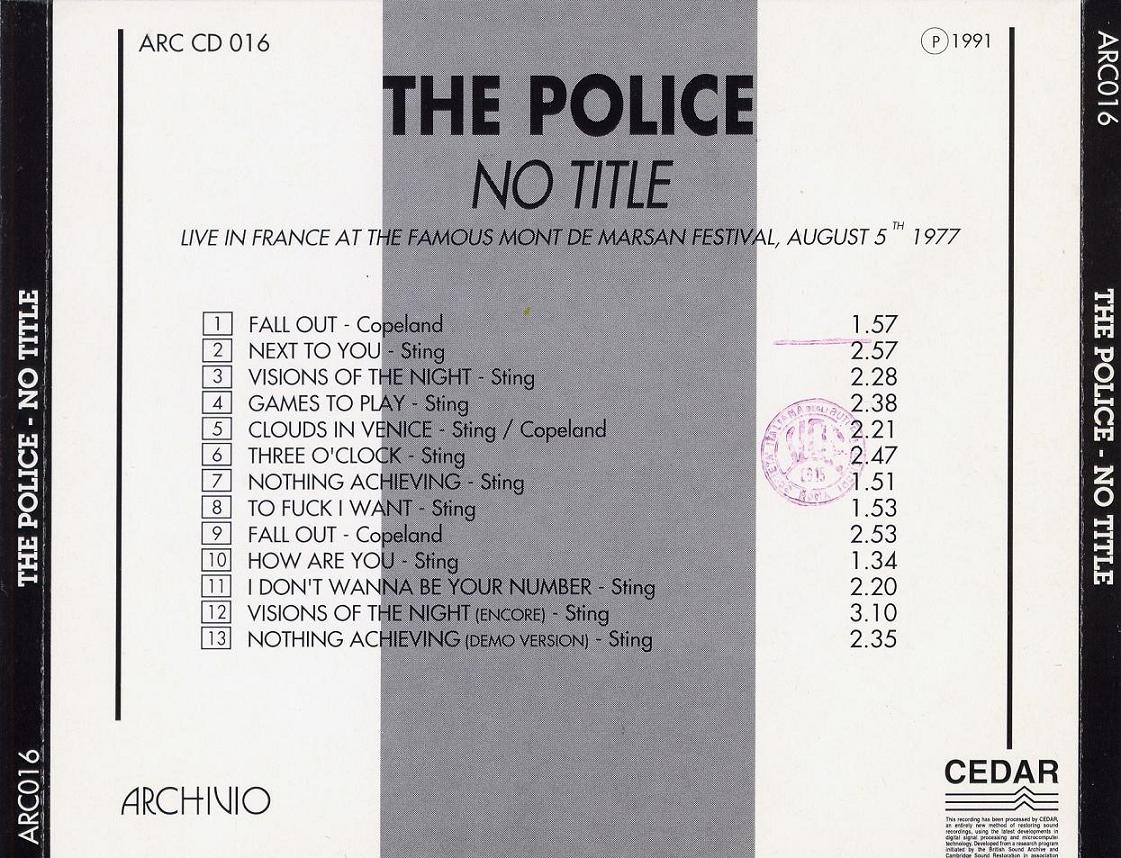 Disque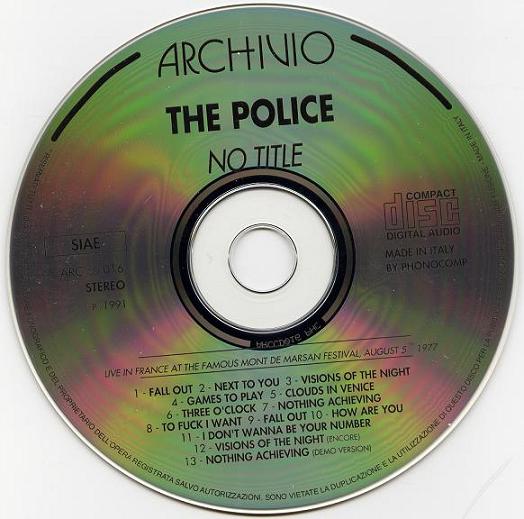 Bootleg n°340