LADIES AND GENTLEMEN

Date : 24 et 25/06/1972
Lieu : Fort Worth (24/06) et Dallas (25/06), Texas, USA
Label : voir ci-dessous
Support : 1 cd
Durée : 79:31 mn
Source : Soundboard
Qualité sonore : 9/10

Liste des titres :
1. Ladies & Gentlemen- The Rolling Stones (2:09)
2. Brown Sugar (3:13)*
3. Bitch (4:45)****
4. Gimme Shelter (4:49)***
5. Dead Flowers (4:10)***
6. Happy (3:07)***
7. Tumbling Dice (5:21)**
8. Love In Vain (6:35)**
9. Sweet Virginia (4:33)***
10. You Can't Always Get What You Want (7:26)**
11. All Down The Line (4:57)*
12. Midnight Rambler (11:55)*
13. Band Introduction (1:20)****
14. Bye Bye Johnny (3:18)**
15. Rip This Joint (2:25)****
16. Jumping Jack Flash (3:38)**
17. Street Fighting Man (4:35)**
18. Closing (1:14)
* Houston, June 25th 1972 (2nd show)
** Houston, June 25th 1972 (1st show)
*** Fort Worth, June 24th 1972 (1st show)
**** Fort Worth, June 24th 1972 (2nd show)

Commentaire : Il s'agit de la bande sonore d'un film (édité officiellement et intitulé « Ladies and Gentlemen ») qui présente une reconstitution un peu artificielle d'un concert en utilisant les bandes de quatre concerts différents : les deux shows de Fort Worth le 24 juin 72 et les deux shows de Dallas le lendemain. L'intérêt est que les meilleures interprétations ont été sélectionnées et qu'on ne s'aperçoit pas trop des coupures. La qualité sonore est impeccable.
Ce bootleg a d'abord été publié par « Speeder Ball Records » sous les noms de Dragon Slayers Part I (S.B.R. 003) et Dragon Slayers Part II (S.B.R. 004). Puis le label « Vinyl Gang » l'a ressorti sous le même nom dans ce qui a été sa première publication (Dragon Slayers Ref. : VGP 001). En 2004, une version remasterisée au son stéréophonique phénoménal a fait surface sous différents titres et différents labels, notamment « Ladies And Gentlemen The Rolling Stones » par le label « Butterfly Producing », « Ladies And Gentlemen » par le label « Sister Morphine », Ladies And Gentlemen (RS-1A/B) par le label « Milestones », ou « Ladies And Gentlemen The Rolling Stones » par le label « Pignose ». Enfin, une version est sortie sous le label « Halcyon » proposant deux mixages distincts des mêmes enregistrements: l'un (sur le CD1) présentant la meilleure qualité disponible à ce jour et à ma connaissance, et l'autre n'ayant pas grand intérêt.
Ayant obtenu ma version par un échange de CD sur Bootleg Zone, je ne sais pas trop de laquelle il s'agit, mais le son est très bon et la track list est celle indiquée ci-dessus. Elle est disponible en utilisant le lien ci-dessous :
Disponible ici* : http://depositfiles.com/files/jyxlgqqaa
*Assurez-vous que le téléchargement de ces fichiers ne contrevienne pas à la législation en vigueur.  
Pochette (version 1) :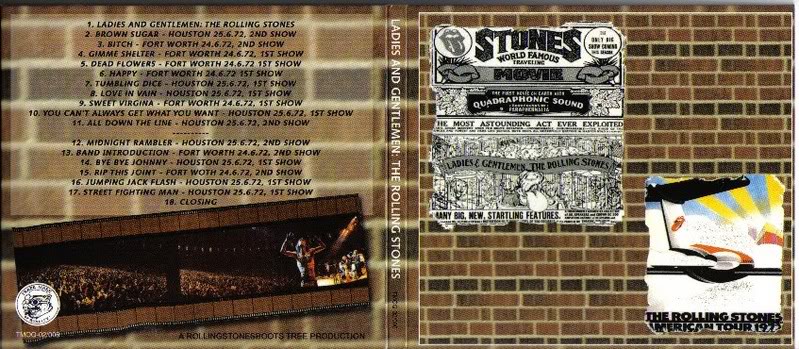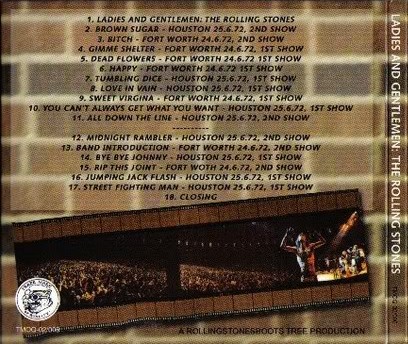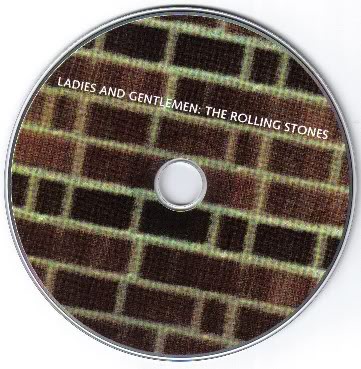 Pochette (version 2) :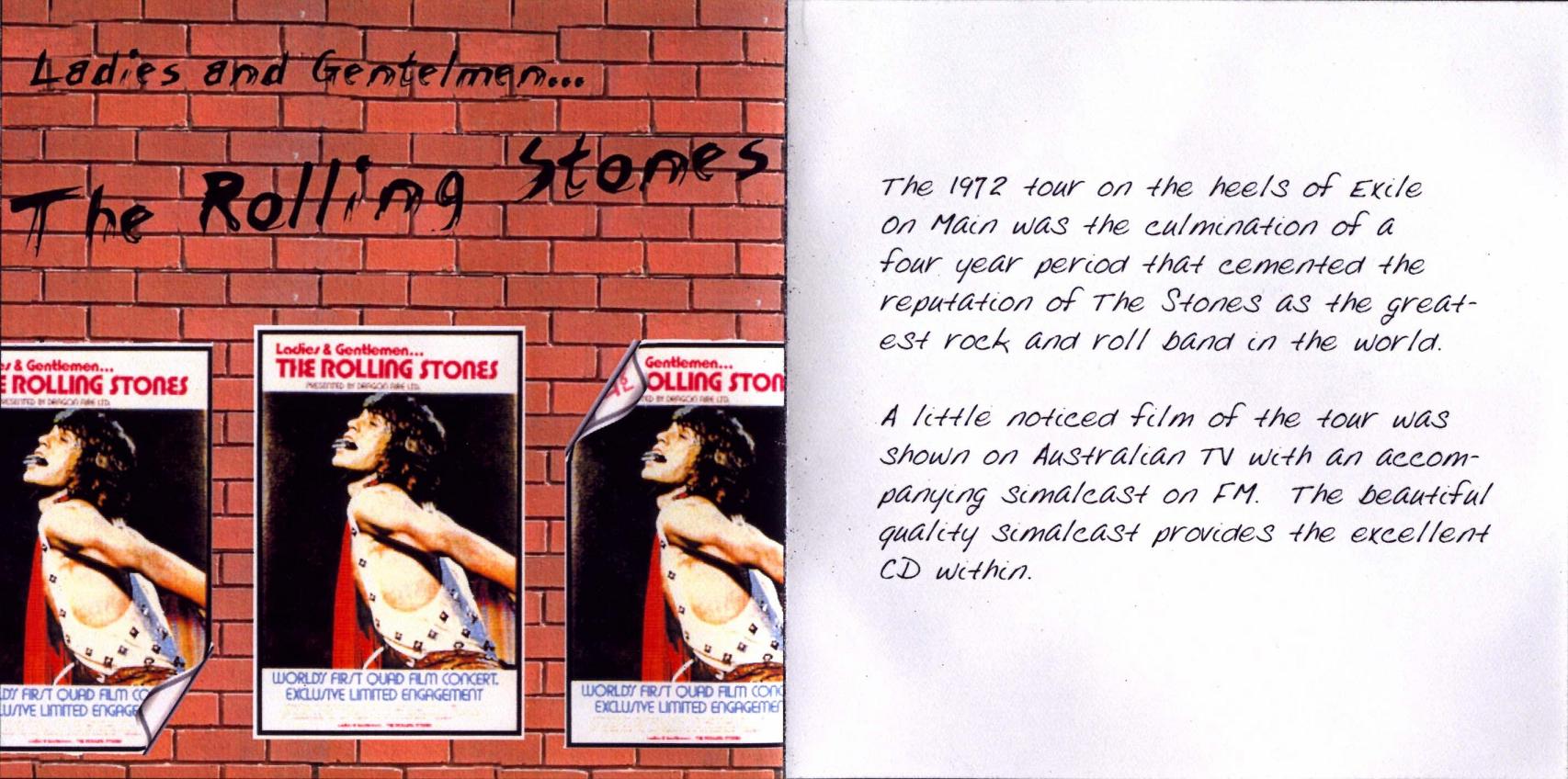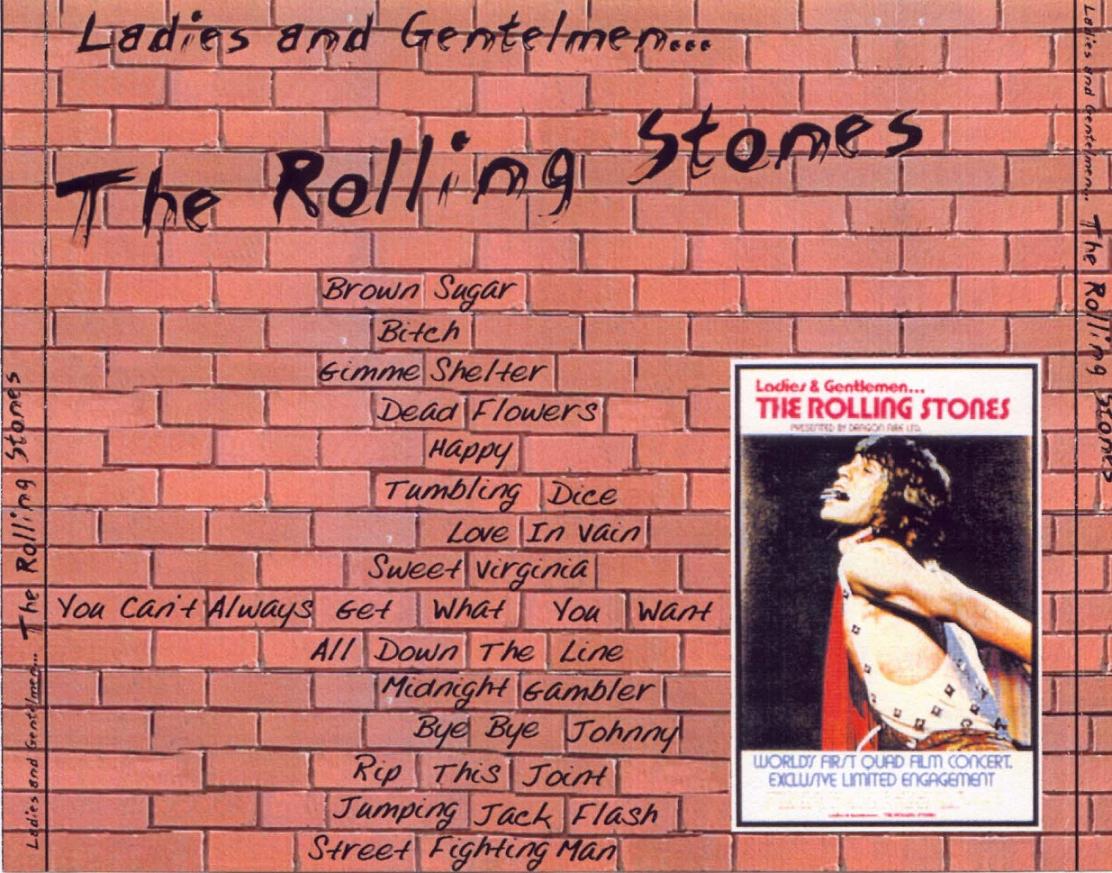 Pochette (version 3) :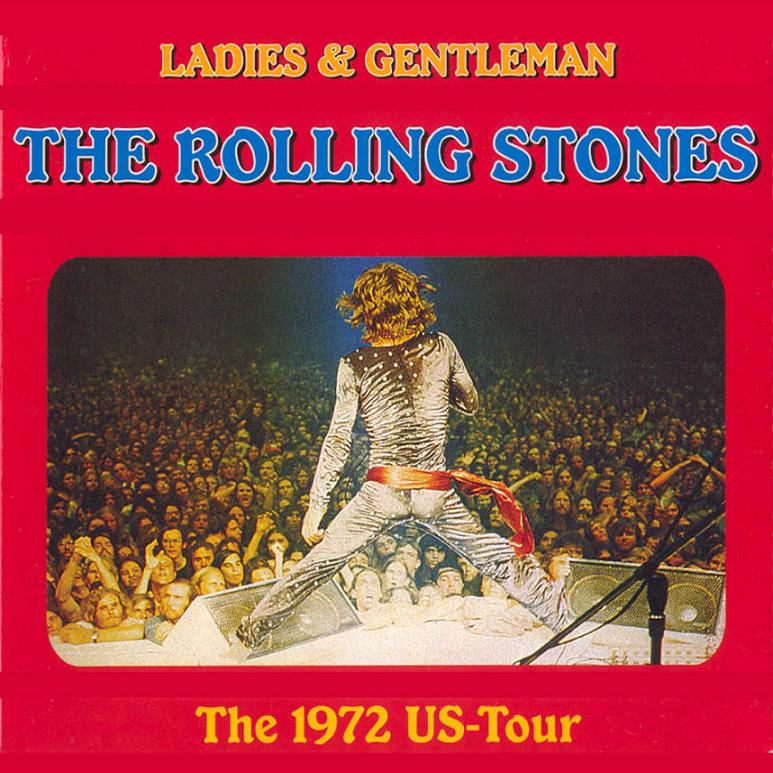 Bootleg n°528