SOME GIRLS ARE BIGGER THAN OTHERS

Date et lieu :

28/06/1978, Midsouth Coliseum, Memphis, TN


6/07/1978, Detroit, MI




19/07/1978, Houston, TX
Label : Vinyl Gang Product (Ref. : VGP 278)
Support : 1 cd
Durée : 73:41 mn
Source : Soundboard
Qualité sonore : 9,5/10

Liste des titres :
01. Let It Rock (2:42)
02. All Down The Line (4:13)
03. Honky Tonk Women (4:02)
04. Miss You (7:48)
05. Imagination (7:29)
06. Shattered (4:38)
07. Hound Dog (2:03)
08. Respectable (3:22)
09. Beast Of Burden (6:54)
10. When The Whip Comes Down (5:14)
11. Love In Vain (5:55)
12. Tumbling Dice (5:29)
13. Happy (3:16)
14. Brown Sugar (4:05)
15. Jumpin' Jack Flash (6:31)
Memphis, TN 28/06/1978 – tracks 2, 5-8, 10, 11, 13
Detroit, MI 06/07/1978 – tracks 1, 4, 12
Houston, TX 19/07/1978 – tracks 3, 9, 14, 15
Commentaire : contrairement à ce qu'indique la pochette, il ne s'agit pas du concert complet de Memphis, mais d'une sorte de pot pourri où certaines versions meilleures des chansons jouées à Memphis ont été substituées. Voir ci-dessous pour plus de détails.

Review by: Jeff, sinewwave@aol.com : This is the finest sounding cd of the 78 Stones Tour. Several of the tunes are not from Memphis, but that is forgiven because better performances were used. This is the KBFH recordings. But is seems to be better sounding mixes and EQ than the original broadcast masters. It has high end that sizzles, bass that rumbles, and natural hall ambience like it probably sounded there. This sits nicely right next to « Love You Live ». The songs selection is another thing going for it. Besides the Some Girls tracks, you get lots of the old classics. This is a nice long disc, almost a double album on one CD. (10 sept. 2001)

Review by: ringoswig :

This one-CD « complete show » (according to the label) on Home Records documents a June 28, 1978 concert at the Midsouth Coliseum in Memphis, TN. The Stones were clearly giddy playing in Elvis' home town, putting 'Honky Tonk Women' near the top of the set, Mick talking about how much of a « treat » it is to play there considering how important the town is « as far as music is concerned, » beckoning the crowed to emit a Rebel Yell, and even throwing in a rip-roaring version of 'Hound Dog' to please the locals. After a warmup of 'Let it Rock' and 'All Down the Line' comes the heart of the show, the then-new Some Girls material. The first thing one notices about these performances (in stellar sound) is the fact that Ronnie's substance intake' hadn't yet got the better of him as in the 80s: his playing is stellar throughout. 'Miss You' never drags despite its 7:48 length,' a rare Imagination is a treat (strangely Mick sings « all the girls in Detroit »- maybe « all the girls in Memphis » goes too trippingly ' off the tongue; Keith's liquid groove on 'Shattered' is superb, and a 1-2-3 of 'Respectable', 'Beast', and 'Whip Comes Down' delights. Another surprise: 'Love in Vain', the old showcase for little Mick, remains! Ronnie makes it his own with his patented bottleneck on that dobro-type twangy guitar. The show finished with a stomp through the standards, 'Tumbling Dice', 'Happy', 'Brown Sugar', and a furious, 6:30 'Jumping Jack Flash'. Whew! The Stones are a Mean Machine on this one. The show is available from other sources, and may have been a radio broadcast, I'm not sure, but a keeper in any case. Great for a party! 

(21/11/2001)
Disponible ici* :  https://www.guitars101.com/forums/f145/rolling-stones-1978-xx-xx-some-girls-bigger-than-others-sbd-flac-192529.html
*Assurez-vous que le téléchargement de ces fichiers ne contrevienne pas à la législation en vigueur.
Pochette :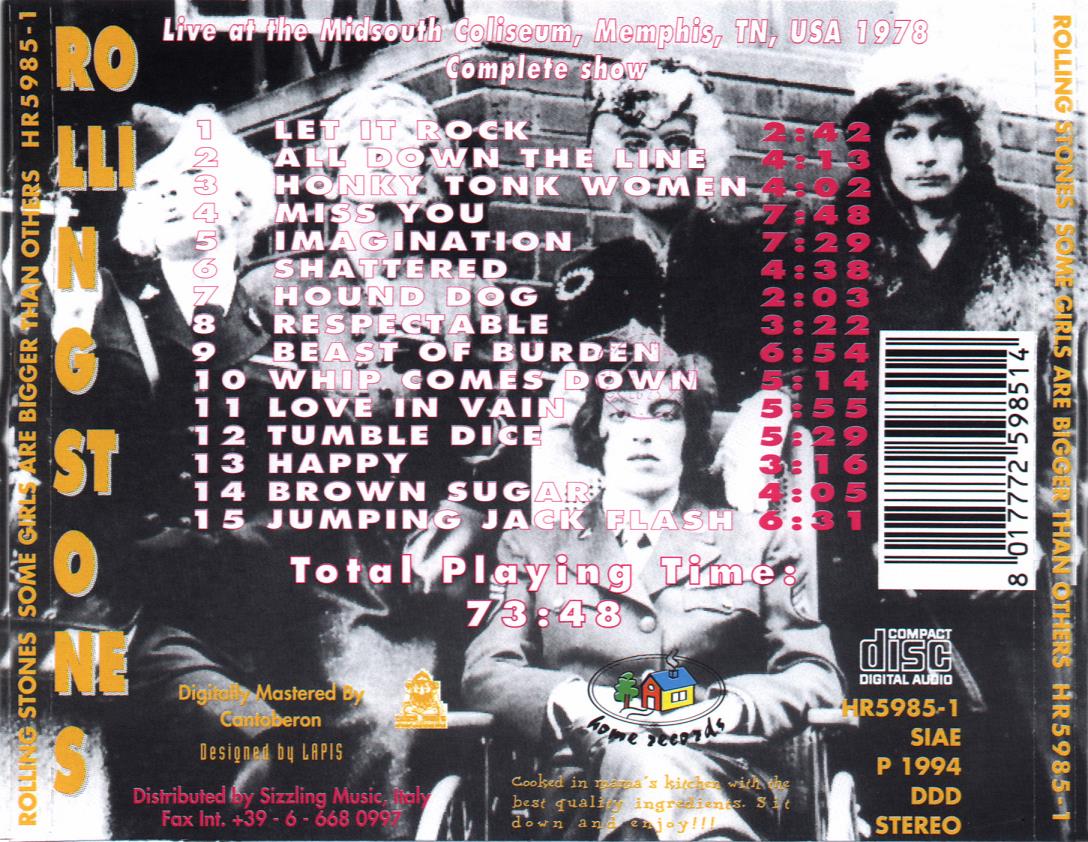 Bootleg n°3444