WHO'S FOR TENNIS ?
Date : 1968
Lieu : Studio sessions
Label : soniclovenoize
Support : 1 cd
Durée : 33:51 mn
Source : soundboard
Qualité sonore : 9,5/10

Liste des titres :
Side A:
01. Glow Girl (2:24)
02. Fortune Teller (2:17)
03. Girl s Eyes (3:06)
04. Dogs (3:02)
05. Call Me Lightning (2:19)
06. Melancholia (3:21)
Side B:
07. Faith in Something Bigger (2:59)
08. Early Morning Cold Taxi (2:55)
09. Little Billy (2:15)
10. Dr Jekyll and Mr Hyde (2:34)
11. Shakin All Over (3:20)
12. Magic Bus (3:19)
Commentaire : Après le succès de leur album « The Who sell out », en 1967, et en attendant la sortie d'un ambitieux projet d'opéra rock (le futur Tommy, finalement paru en 1969), les Who étaient pressés par leur manager (Kit Lambert) de sortir un album de transition. Kit Lambert avait dans un premier temps suggéré de sortir un album live de la tournée 1968 ou bien une compilation de morceaux instrumentaux. Face à la réticence du groupe à s'investir dans un projet qui risquait de les détourner de leur travail sur Tommy, il suggéra enfin de composer un album à partir de matériel déjà existant : les singles parus depuis 1967, des chutes des sessions de l'enregistrement de « The Who sell out » et deux ou trois compositions originales pour compléter le tout. Quant au titre, c'était un jeu de mot facile prévu pour que la sortir du disque coïncide avec le tournoi de Wimbledon.

Malgré tout, les Who mirent tellement peu d'enthousiasme dans l'affaire que le disque fut abandonné plus ou moins au milieu de l'année 1968. La plupart des morceaux refirent surface sur des compilation telles que « Odds and Sods » (1974) ou « 30 Years of maximum R&B » (1994), ou bien sous la forme de bonus tracks sur les rééditions des albums en CD.
La pochette du recto est une création originale de « Soniclovenoize ». Le verso est un ajout personnel de ma part.
Disponible ici* : http://albumsthatneverwere.blogspot.fr/2014/09/the-who-whos-for-tennis.html
*Assurez-vous que le téléchargement de ces fichiers ne contrevienne pas à la législation en vigueur.  
Pochette :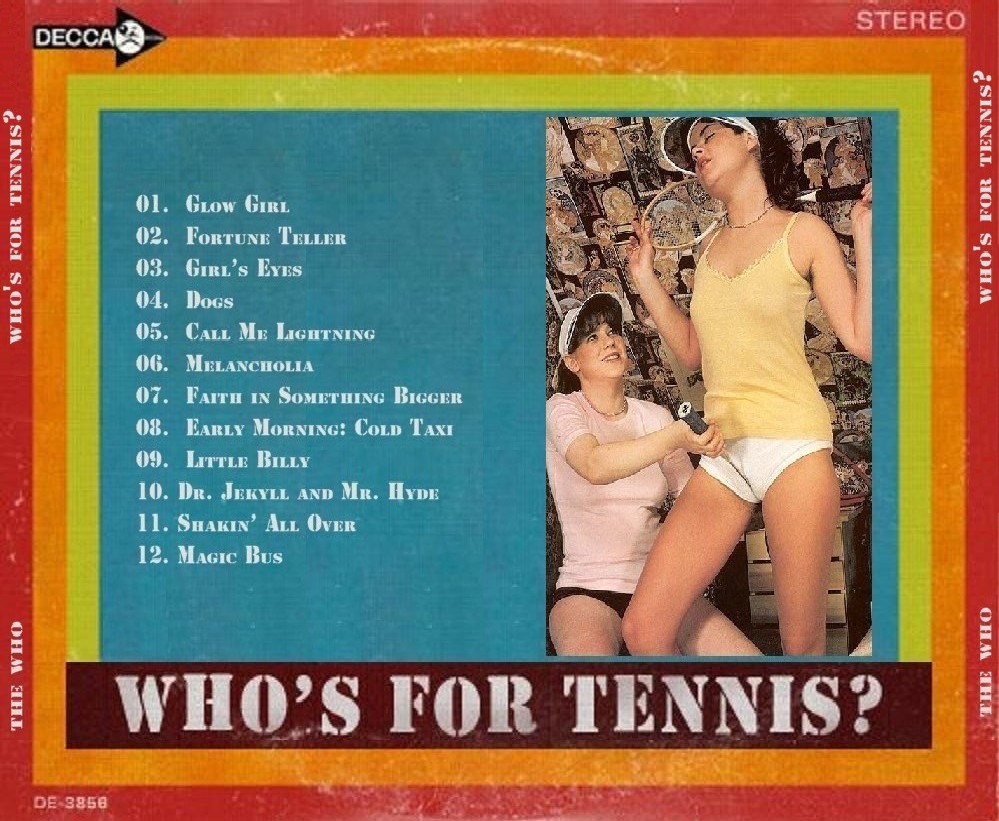 Bootleg n°706