Scorpions est le groupe allemand le plus célèbre de toute l'histoire du rock. Considéré aujourd'hui comme un groupe de hard rock commercial produisant des tubes et des ballades en série, sa carrière est en réalité d'une longévité assez rare ainsi que d'une grande diversité ; elle se divise en 4 phases d'inégale longueur et d'inégal intérêt :
Une première phase correspond aux années de tâtonnement et s'étale sur de longues années (1965 à 1973) ; elle ne débouche que sur la publication d'un seul album, « Lonesome Crow », en 1972. Le groupe se cherche alors un style propre. Il est encore très marqué par le psychédélisme et ne peut pas être vraiment rattaché au genre du hard rock. Je ne sais pas s'il existe des bootlegs de cette période. En tout cas, je n'en ai pas.
La seconde phase est, à mon sens, la plus intéressante : elle couvre les années 1974 à 1978 ; quatre albums studio en sont issus, ainsi que le fameux double live « Tokyo Tapes ». Le groupe est alors largement marqué par l'influence de son guitariste Uli Jon Roth (qui chante aussi sur au moins deux chansons de chaque disque). C'est un admirateur de Jimi Hendrix et c'est lui qui maintient dans la musique de Scorpions, désormais nettement orientée vers le hard rock, une touche de rock psychédélique qui donne au groupe son originalité. La plupart de mes bootlegs datent de cette phase. Et pour les inconditionnels d'Uli Roth, j'ai quelques bootlegs de sa carrière ultérieure avec son groupe (« Electric Sun ») ou en solo : voir ici
La troisième phase (1979-1984) correspond à l'apogée commerciale de la carrière du groupe qui, après le départ de Uli Jon Roth, prend un tournant plus heavy metal (mais entendons nous bien, un heavy metal très mélodique, presque FM). Une série de bons albums sont publiés entre 1979 et 1984, culminant avec deux succès planétaire : « Blackout » en 1982 et « Love at first sting » en 1984. Ce dernier est presque un best of à lui tout seul, puisque pas moins de 6 chansons sur les 9 qu'il comporte ont été des tubes en single. Le groupe aura ensuite du mal a digérer un tel succès et la suite de sa carrière sera à nouveau plus incertaine.
Cette dernière phase est la plus longue, puisqu'elle dure encore, le groupe étant actif en 2016, au moment où j'écris ces lignes. Elle a donné lieu à la publication de neuf albums, soit autant que durant les trois premières phases, ainsi qu'à quatre albums live (je ne compte pas les innombrables compilations). Quelques uns de ces albums ont connu un succès relatif, en particulier grâce à des tubes calibrés pour les radio et qui tentaient de surfer sur le succès incroyable du slow « Still Loving you » (1984). Scorpions s'est donc pendant un certain temps spécialisé dans les « slows hard rock », comme « Wind of change », « Believe in Love » ou « Send me an Angel ». Le public donnant des signes de lassitude, diverses réactions ont été adoptées par le groupe, dont un retour à une formule plus percutante, notamment à partir de l'album « Face the Heat » (1993), mais sans jamais retrouver la recette des années 80.
Un dernier mot pour évoquer leur concert de 2014 à la Fête de l'Humanité. Après avoir vu de pauvres reliquats des Stooges et de Deep Purple les années précédentes, j'ai vu un Scorpions visiblement heureux d'être sur scène, offrant pas moins de trois rappels et se donnant à fond malgré l'âge certain des musiciens. La classe.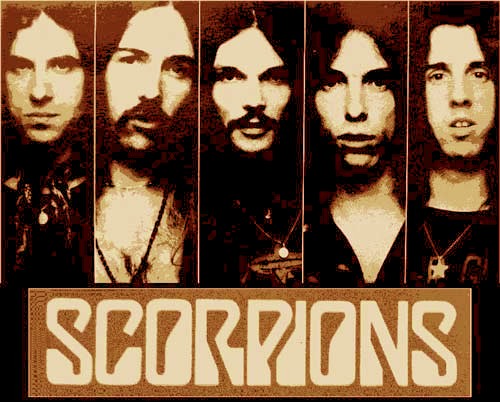 BOOTLEGS DE SCORPIONS

(Liste alphabétique)
ALTERNATIVE TOKYO TAPES – 24/04/1978
BLACKOUT IN LONDON – 23/04/1982

BOLTON UNIVERSITY 1977 – 30/04/1977
DYNAMITE IN HANNOVER 1984 – 11/02/1984
FIRST STING U.S.A. – 18/11/1979
GRUGAHALLE, ESSEN – 26/04/1975
HAMMERSMITH IN TRANCE – 30/07/2007
HAMMERSMITH ODEON, APRIL 23rd 1982 – 23/04/1982

LIVE IN KAZAN (WITH STATE ACADEMIC ORCHESTRA OF RUSSIA) – 29/08/2005

MAXIMUM HURRICANE – 14/08/1999

MAYFAIR, NEWCASTLE 1980 – 13/05/1980
MAXIMUM ULI YEARS – XX/05/1976 + 01/04/1977 + 15/04/1977
RTL2 ACCOUSTIC LIVE – 04/07/2005
ONE NIGHT IN ILLINOIS – 07/08/1979
LOST IN A DEEP BLACK HOLE – 10/02/1984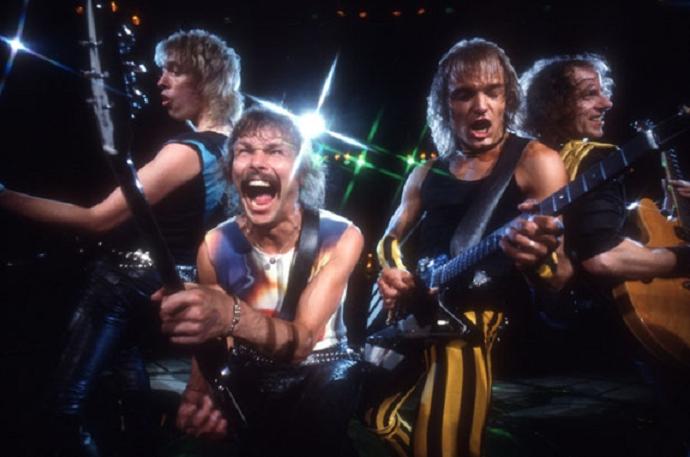 BOOTLEGS DE SCORPIONS

(Liste chronologique)
26/04/1975 – GRUGAHALLE, ESSEN
XX/05/1976 – MAXIMUM ULI YEARS
01/04/1977 – MAXIMUM ULI YEARS
15/04/1977 – MAXIMUM ULI YEARS
30/04/1977 – BOLTON UNIVERSITY 1977
24/04/1978 – THE ALTERNATIVE TOKYO TAPES
07/08/1979 – ONE NIGHT IN ILLINOIS

18/11/1979 – FIRST STING U.S.A.
13/05/1980 – MAYFAIR, NEWCASTLE 1980
23/04/1982 – HAMMERSMITH ODEON, APRIL 23rd 1982 / BLACKOUT IN LONDON

10/02/1984 – LOST IN A DEEP BLACK HOLE

11/02/1984 – DYNAMITE IN HANNOVER 1984
14/08/1999 – MAXIMUM HURRICANE

04/07/2005 – RTL2 ACCOUSTIC LIVE
29/08/2005 – LIVE IN KAZAN (WITH STATE ACADEMIC ORCHESTRA OF RUSSIA)
30/07/2007 – HAMMERSMITH IN TRANCE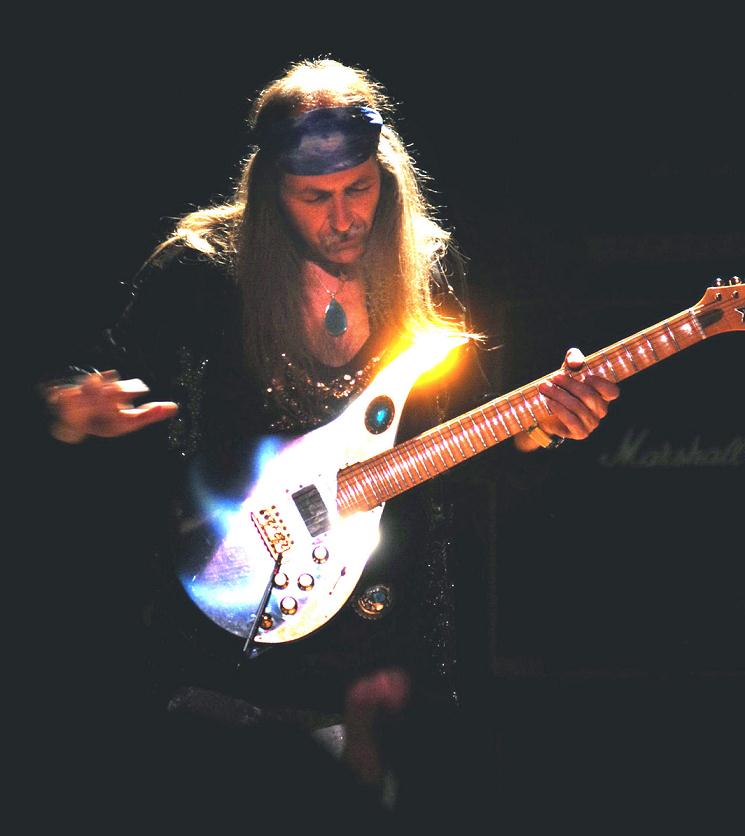 BOOTLEG DE ULI JON ROTH & ELECTRIC SUN

04/07/1985 – SUMMERFEST 1985, MILWAUKEE