SULTANS OF BOSTON
aka
BOSTON 1979

Date : 08/09/1979
Lieu : Orpheum, Boston, USA
Label : Ace Bootlegs Production
Support : 2 cd
Durée : 86:17 mn
Source : Soundboard
Qualité sonore : 8,5 à 9/10

Liste des titres :
CD1 – 58:21
01. Down to the waterline (5:39)
02. Six blade knife (4:32)
03. Lady writer (4:35)
04. Once upon a time in the west (5:52)
05. News (4:28)
06. Bernadette (3:46)
07. What's the matter baby (3:17)
08. In my car (4:43)
09. Portobello belle (4:14)
10. Wild west end (5:11)
11. In the gallery (6:18)
12. Lions (5:46)
CD2 – 27:56
01. Sultans of swing (6:21)
02. Setting me up (3:24)
03. Southbound again (4:12)
04. Where do you think you're going (4:53)
05. Eastbound train (4:41)
06. Twisting by the pool (4:25)
Commentaire : Plusieurs titres assez rares en concert : "Bernadette" (écrit et chanté par David Knopfler), "In my car" (titre inédit en disque officiel), "Portobello belle", "Setting me up" (seule version soundboard existante) et enfin une version très précoce de "Twisting by the pool".
A noter, deux versions de ce concert circulent : celle qui est chroniquée ici et une autre intitulée "Boston 1979″, publiée par le label "Golden Stars" et qui non seulement comporte un titre de moins (le titre "Wild west end", ce qui permet de faire tenir le tout sur un seul CD) mais dispose d'une qualité sonore légèrement inférieure. La pochette est ci-dessous. Quant au lien de téléchargement indiqué là-dessous, il concerne la version "Boston '79".
Comme je n'arrivais pas à trouver la vraie version de la pochette de "Sultans of Boston", je me suis fabriquée la mienne (sans trop me fouler).

Version « Boston '79 » disponible ici* : http://www.guitars101.com/forums/f145/dire-straits-1979-09-08-boston-ma-sbd-flac-136165.html

Autre version du même concert disponible ici (en mp3) : http://www.filefactory.com/file/768j994eijun/1979g%20Orpheum%20%28Boston%2C%208%3A09%3A79%29%AE%20-%201h51.zip
Pochette (version "Sultans of Boston" by Ace Bootlegs Prod.) :
Dos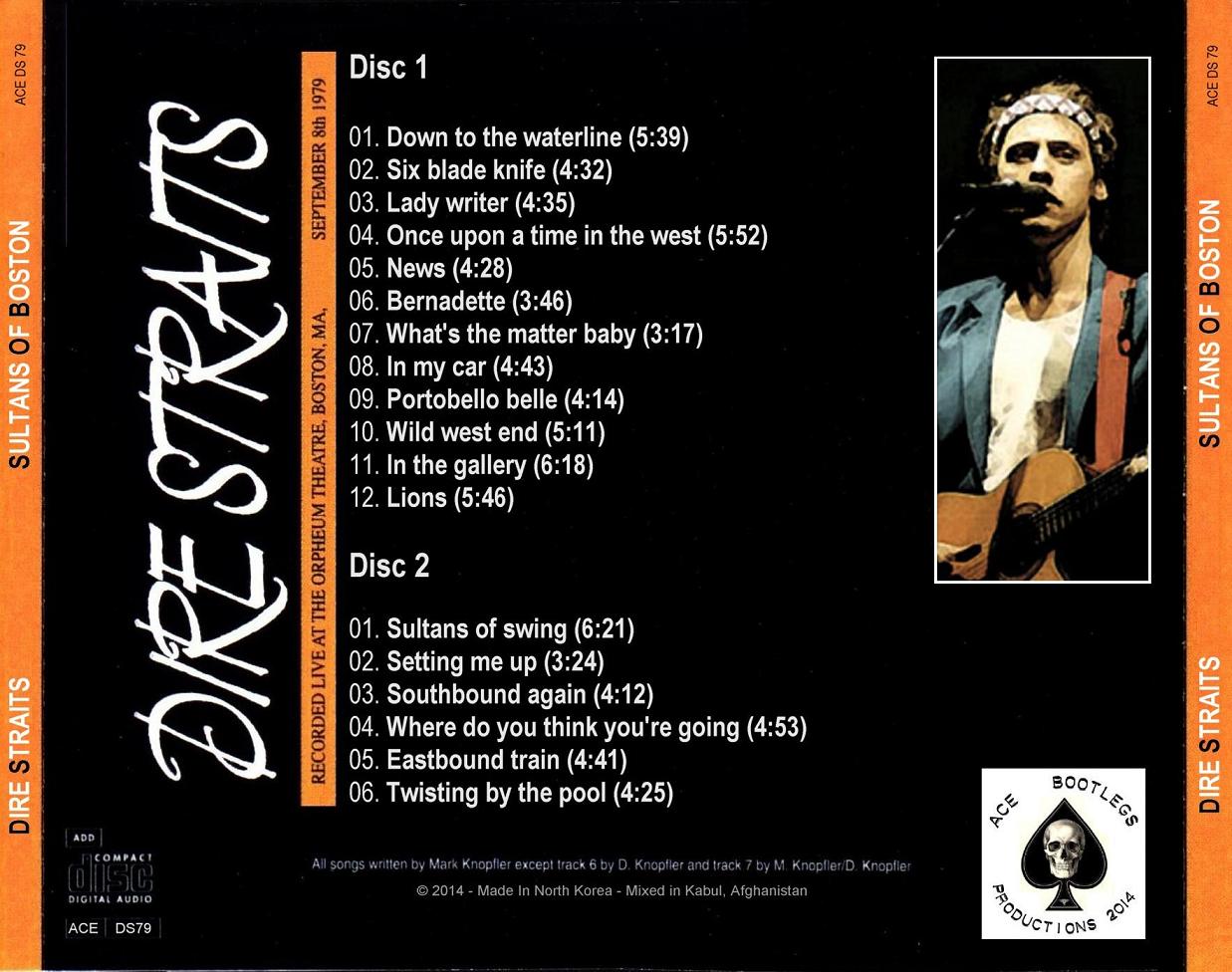 Pochette (version "Boston 1979″) :
Livret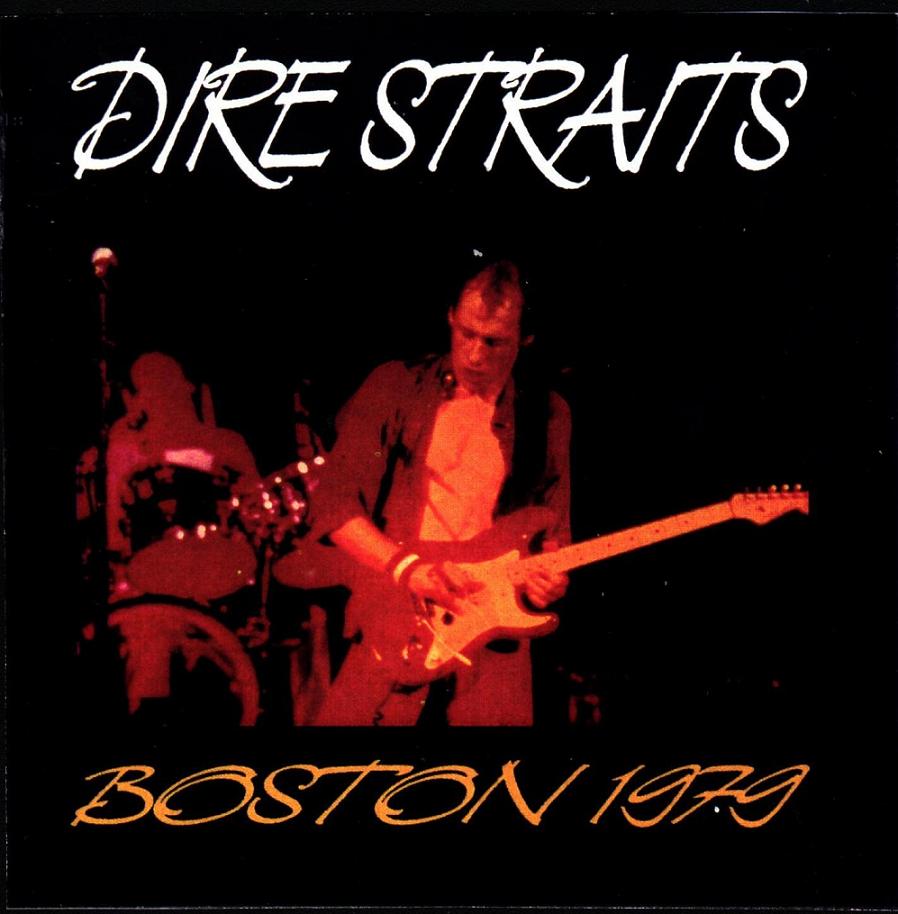 Dos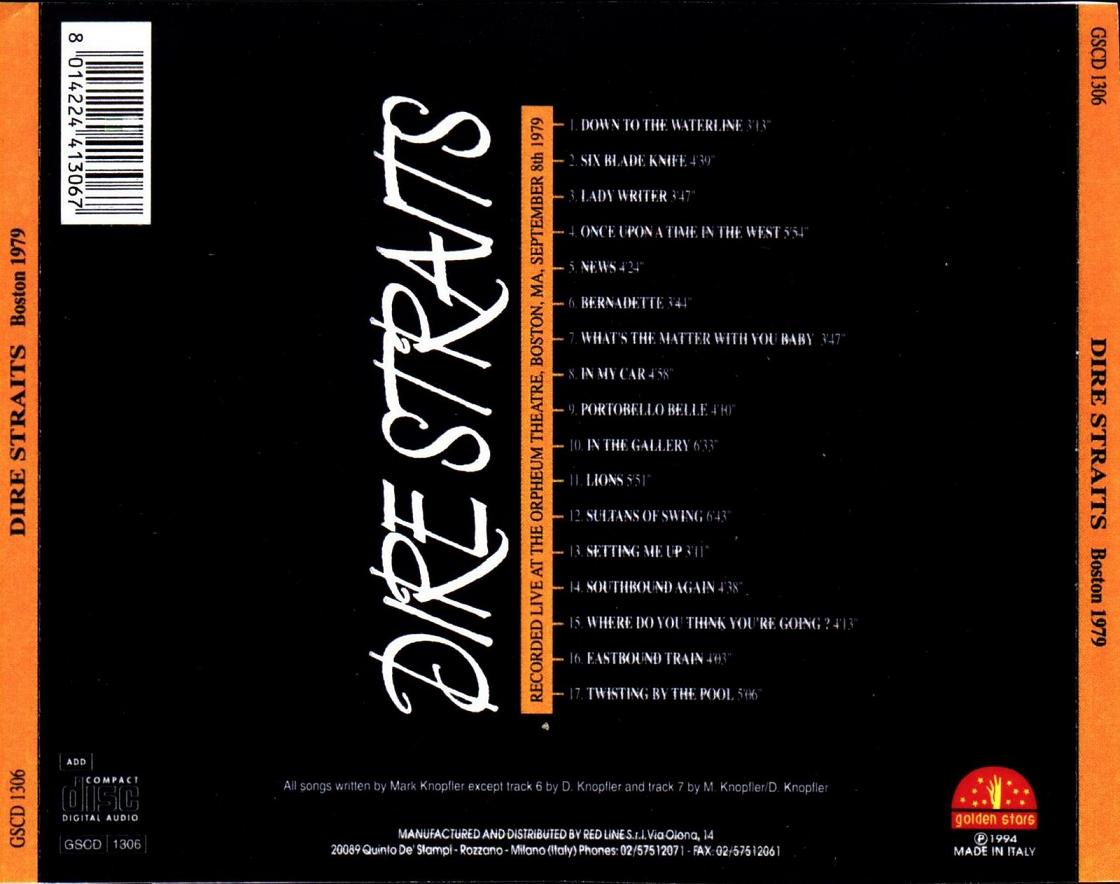 Disque
Bootleg n°243