BERLIN SOUNDBOARD

Date : 15/02/1978
Lieu : Deutschlandhalle, Berlin, RFA
Label : The Zappateers (Ref. : FZ 15 Feb 1978)
Support : 2 cd
Durée : 148:28 mn
Source : Soundboard
Qualité sonore : 9,5/10

Liste des titres :
CD1. 77:52
01. Intro (1:45)
02. Dancin' Fool (3:38)
03. Peaches En Regalia (2:31)
04. The Torture Never Stops (14:24)
05. Tryin' To Grow A Chin (3:34)
06. City Of Tiny Lights (7:28)
07. Baby Snakes (1:51)
08. Pound For A Brown (5:56)
09. I Have Been In You (9:58)
10. Flakes (7:26)
11. Broken Hearts Are For Assholes (3:48)
12. King Kong (9:11)
13. Wild Love (6:11)
14. Fade Out (0:11)
CD2. 70:36
01. Fade In (0:11)
02. Yo Mama (10:57)
03. Titties 'n Beer (4:26)
04. Black Page #2 (3:56)
05. Jones Crusher (2:49)
06. Little House I Used To Live In (15:21)
07. Dong Work For Yuda (2:54)
08. Bobby Brown (3:01)
09. Envelopes (2:16)
10. Drum Solo (4:07)
11. Disco Boy (6:48)
12. Dinah-Moe Humm (6:38)
13. Camarillo Brillo (3:19)
14. Muffin Man (3:53)
Musiciens :
Frank Zappa: guitar, vocals
Adrian Belew: guitar, vocals
Patrick O'Hearn: bass
Tommy Mars: keyboards, vocals
Terry Bozzio: drums, vocals
Peter Wolf: keyboards
Ed Mann: percussion

Commentaire : This show occurred slightly more than a year prior to the 1979 release of "Sheik Yerbouti," and listening to the Berlin show you quickly realize that it is quite nearly a song-for-song preview of that album. It was an awesome showfeaturing nearly two-and-a-half hours of ripping kick ass music played with expert precision that includes some of Zappa's best live guitar solos. There is some really outstanding and beautiful keyboard playing as well and some freaky funky bass playing by Patrick O'Hearn. The show easily swings from hard rock to sweet stylin' jazz funk, with effortless segues into avant-garde, then back to jamming arena rock. Although bootlegs of this concert exist, this copy was given to me by a dedicated Zappa collector. It is claimed that this version was sourced from Tommy Mars' (Frank Zappa's keyboard player in the band) personal cassette recording of the show. While it is not possible to confirm the provenance of this issue, the claim seems reasonable. It is without doubt, a soundboard source. The sound quality is better than most bootleg albums, although it is evident that this recording was never intended for commercial release.
Disponible ici* : http://dfiles.eu/files/ed0gys3o3

*Assurez-vous que le téléchargement de ces fichiers ne contrevienne pas à la législation en vigueur.    
Pochette :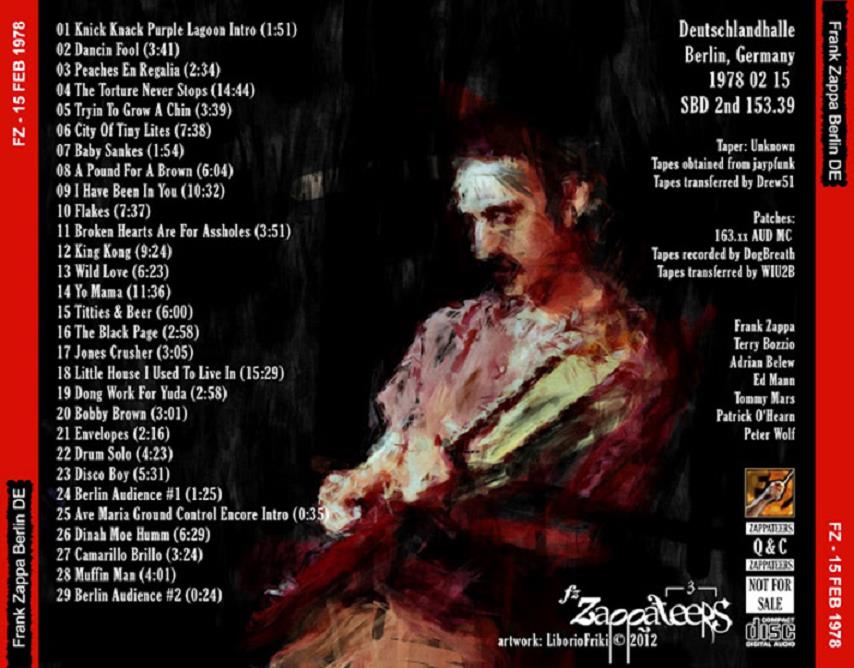 Bootleg n°246