KILL'EM ALL LIVE 2013

Date : 08/06/2013
Lieu : Belle Isle, Detroit, Michigan
Label : The Metallica Club
Support : 1 cd + 1 DVD
Durée : 53:06 mn
Source : Soundboard
Qualité sonore : 10/10

Liste des titres :
1. Hit The Lights (4:17)
2. The Four Horsemen (6:38)
3. Motorbreath (3:58)
4. Jump In The Fire (4:50)
5. (Anesthesia) Pulling Teeth (4:19)
6. Whiplash (4:03)
7. Phantom Lord (5:10)
8. No Remorse (6:53)
9. Seek And Destroy (6:53)
10. Metal Militia (6:05)

Commentaire : Metallica joue sous l'identité d'un groupe fictif nommé « Dehaan », soi-disant originaire de Baltimore, comme l'annonce James Hetfield en arrivant sur scène et en prenant l'accent de la côte Est. Tous les musiciens portent des Tee-shirts à l'effigie de Dehaan. Le concert a lieu l'après-midi en ouverture du festival Orion. James entre sur scène en disant : « Bonsoir… euh bonjour… euh bon après-midi, ou quelle que soit l'heure. » Le nom « Dehaan » est une référence à leur film 3D « Metallica Through The Never », dont la partie fiction a pour héros un jeune homme incarné par l'acteur… Dane Dehaan.
Comme l'indique le titre, ce court concert ne comprend que les chansons de l'album « Kill'em all », qui est ici interprété dans l'ordre et dans son intégralité pour fêter les 30 ans de sa sortie.
Disponible ici en DVD ou en Blue-Ray* : http://theultimatebootlegexperience7.blogspot.fr/2013/10/metallica-2013-06-08-detroit-mi-dvdfull.html

et ici en version audio* : http://dfiles.eu/files/12rsjha5v
*Assurez-vous que le téléchargement de ces fichiers ne contrevienne pas à la législation en vigueur.
Pochette :
version DVD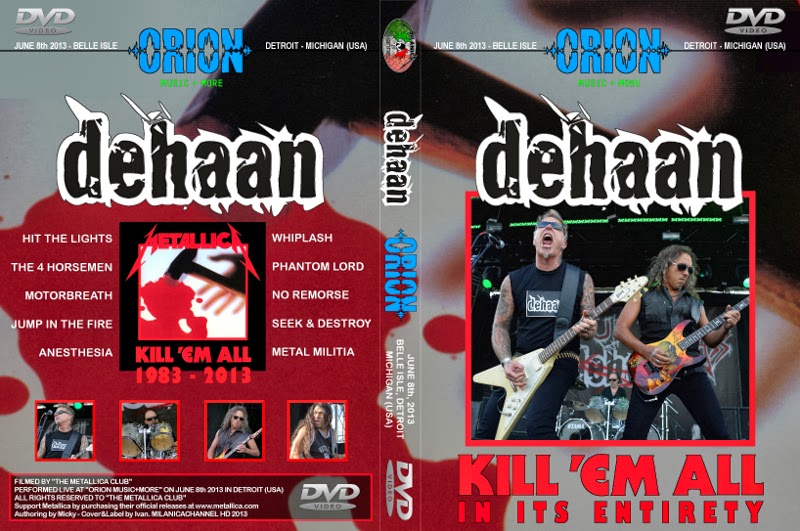 Bootleg n°960