3 SOURCE MATRIX

Date : 17 ou 18/03/1973
Lieu : New York's Radio City Music Hall
Label : Inconnu / artwork by Ace Bootlegs Production
Support : 2 cd
Durée : 124:44 mn
Source : Audience
Qualité sonore : 7/10

Liste des titres :
CD 1 – 66:07
1. Obscured By Clouds (12:32)
2. Tuning (1:39)
3. Set The Controls For The Heart Of The Sun (14:10)
4. Tuning (0:53)
5. Careful With That Axe, Eugene (13:10)
6. Tuning (0:46)
7. Echoes (22:57)
CD 2 – 58:37
1. Dark Side Of The Moon (49:13)
2. One of these days (9:24)
Commentaire : Concernant la date et le lieu de ce concert problématique, voici d'abord ce qu'il faut savoir :
Après des années de controverses, l'unanimité semble s'être faite sur les faits suivants : Pink Floyd a bien donné un concert au Radio City Music-Hall de New York la veille du concert de Waterbury. Personne ne sait si le concert de Waterbury du 18 mars a été enregistré. De nombreux bootlegs sont attribués à tort à la date du 18 mars alors qu'ils dateraient du 17 mars.
La confusion provient du fait que Pink Floyd devait jouer à New York le 17 mars au soir mais qu'en raison de problèmes techniques, le concert n'a commencé qu'après minuit, donc déjà le 18 mars! La confusion a aussi été entretenue par le fait que le concert de New York a été enregistré par plusieurs personnes distinctes (au moins trois à ma connaissance), ce qui fait que les bandes en circulations sont assez diverses les unes des autres et que certains ont cru qu'il s'agissait de deux concerts différents.
Quoi qu'il en soit, et en attendant que la preuve soit établie qu'il existe quelque part un enregistrement du concert de Waterbury, tous les bootlegs actuellement en circulation proviennent du concert de New York.
Concernant maintenant ce bootleg en particulier, il s'agit d'une version obtenue en mixant les trois sources existantes de ce concert, c'est-à-dire les deux utilisées par Wojtek dans « Waterbury Collector's edition » (et c'est d'ailleurs ce bootleg qui a été utilisé ici) plus une troisième source, dite « recorder 1 » mais dont seule une bande de 4ème génération était disponible. Pour plus de détail, j'ai ajouté en dessous le texte (en anglais) de l'auteur de cette version. Toutefois, personnellement, je ne trouve pas que le résultat soit très satisfaisant. C'est à mon avis la moins bonne de mes cinq versions de ce concert (voir la liste plus bas).
« Wherever possible I used the full length of each source. Any missing material was overdubbed with the longest and/or better available version, correcting for changes in volume as best as possible. Of course, the sound of the matrix changes during these sections, as the number of sources drops, sometimes to 1.
None of the sources were perfect so there are a fair share of defects still in this matrix. It does have a full sound and is now more complete than any single source, with all cuts bridged by the others.There is still noise and hiss left here, further efforts to remove it all would reduce the effects all the sources give each other. Some sections are nice with very good sound, other sections will require a forgiving ear.
My hope was that I would be left with a concert more like the one the audience heard that evening. I think that was accomplished.After many hours of hand crafting this concert at the keyboard I have some personal highlights. I enjoyed Gilmour's work in the first track. Set The Controls and Carefull are very nice.
Dark Side is OK but really perks up during any use of taped effects and I especially like the backup singing in this piece.Listen for what sounds like Roger on the giant gong at the end of « On The Run ». This is the first time I've thought of Mason and Waters as a rythym section, parts of this show have a jazz feel and overall I'm becoming more impressed by Waters bass work.
Please do not change these files or notes in any way whatsoever.If someone wants to upgrade this concert I suggest they gather their own sources and create their own matrix.You will find that it's an enormous amount of work !! »
Disponible ici* : sur demande / on request

*Assurez-vous que le téléchargement de ces fichiers ne contrevienne pas à la législation en vigueur.
Autres bootlegs du même concert dans ma collection :

Pochette :
version 1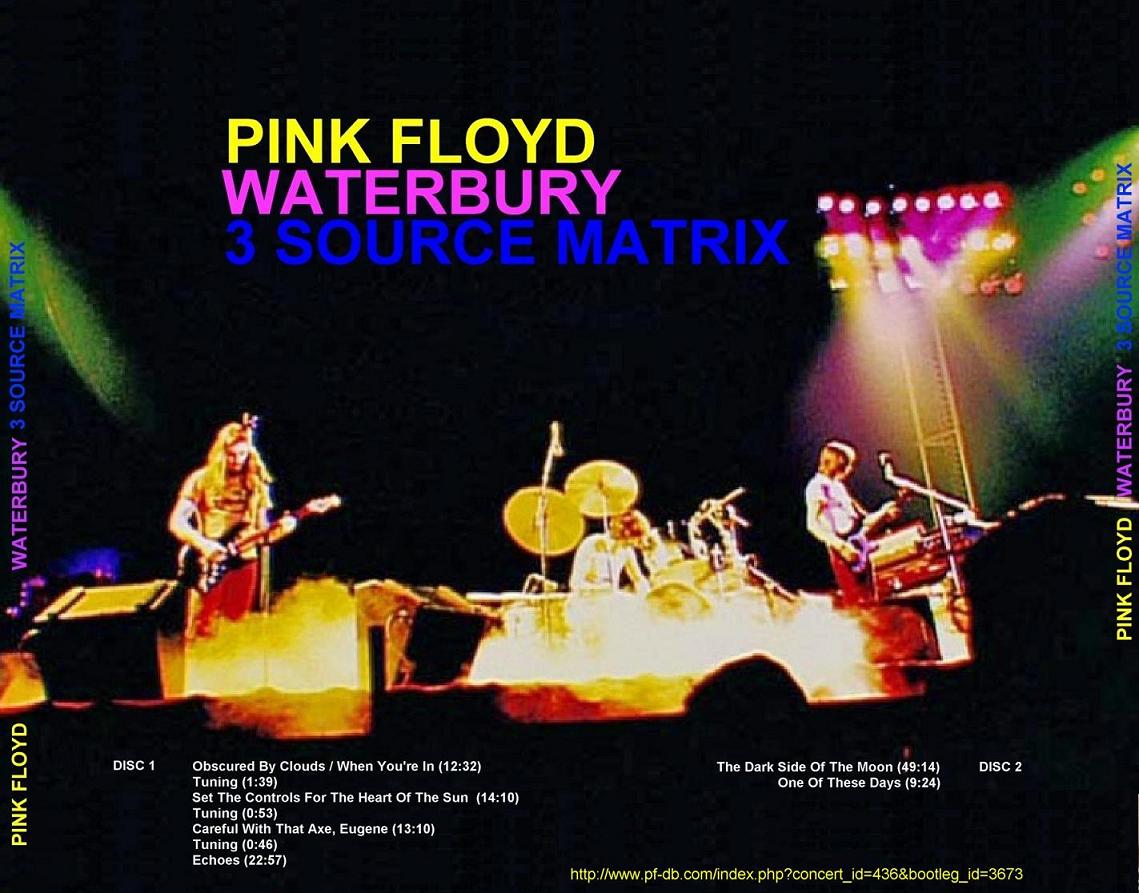 version 2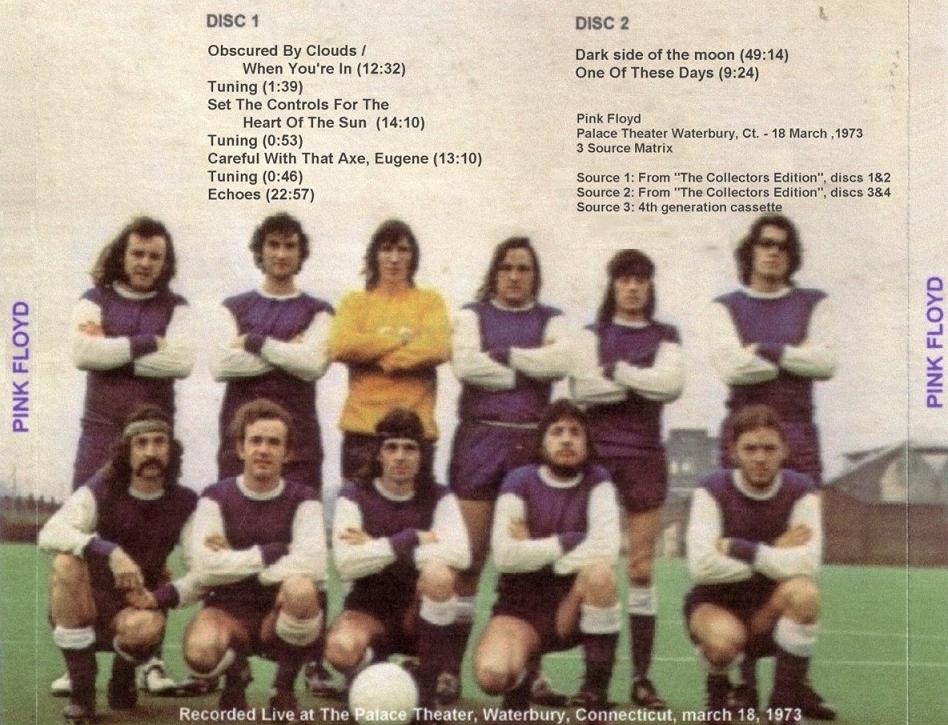 Bootleg n°1746