SMOKING BLUES

Date : 21/11/1970
Lieu : Casino de Montreux, Suisse
Label : Funny Boot Records (FBR 001/002)
Support : 2 cd
Durée : 82:35 mn
Source : Soundboard + FM
Qualité sonore : 9/10

Liste des titres :
CD1 – 43:10
1. Astronomy domine (10.40)
2. Fat old sun (14.04)
3. Atom heart mother (18.26)
CD2 – 39:25
1. Cymbeline (11.36)
2. The embryo (13.04)
3. Just another twelve bar (5.34)
4. More blues (9.11)
Commentaire :  Pink Floyd a joué deux soirs de suite au Casino de Montreux, les 21 et 22 novembre 1970. La légende prétend que les deux concerts ont été enregistrés professionnellement par EMI qui a édité des acétates promotionnels contenant une sélection de morceaux des deux concerts. Sur ces acétates, les titres présentés auraient été les suivants: "Just Another 12 Bar", "Astronomy Domine", "more blues", "Embryo", "Astronomy Domine", "Fat Old Sun", "Cymbaline", "Atom Heart Mother", "Embryo", "Green Is The Colour", "Careful With That Axe Eugene", "Set The Controls", "A Saucerful Of Secrets" et "Interstellar Overdrive", plus une interview de David Gilmour en français.
La set list originale des deux concerts était la même (sauf en ce qui concerne les rappels) :
Astronomy Domine
Fat Old Sun
Cymbaline
Atom Heart Mother
The Embryo
Green Is The Colour
Careful With That Axe, Eugene
Set The Controls To The Heart Of The Sun
A Saucerful Of Secrets
En rappel, "Interstellar Overdrive" fut joué le premier soir (le 21 novembre) et "Just Another 12 Bar Blues" le second soir. Le titre « More blues » qui figure sur les acétates, pourrait être un second rappel du concert du 21/11, mais il n'y a aucune certitude à ce sujet. C'est une improvisation blues très souvent jouée par Pink Floyd en rappel de ses concerts. L'enregistrement des acétates pourrait provenir de n'importe quel autre concert de cette période.
Il est difficile, sur les nombreux bootlegs qui ont repris le contenu des acétates EMI, de savoir quel morceaux proviennent de quel concert. « Smoking blues » est probablement le plus connu de ces bootlegs. Le CD n°1 ainsi que « Cymbaline » proviennent du concert du 21 novembre tandis que les trois derniers morceaux proviennent du concert du 22.
La qualité sonore est assez exceptionnelle, ce qui fait de ce bootleg un vrai must pour les amateurs de Pink Floyd. On pourra toutefois lui préférer le bootleg « Reeling on Pink Floyd » , plus difficile à trouver, mais dont le son est encore meilleur et qui, surtout, contient l'intégralité du concert du 21 novembre, y compris les interludes entre chansons.
Pour ce qui est de « Smoking Blues », on peut le trouver ici* : sur demande / on request
*Assurez-vous que le téléchargement de ces fichiers ne contrevienne pas à la législation en vigueur.
Autres bootlegs du même concert dans ma collection :

Pochette* :
*pochette complètement débile, puisqu'elle montre le groupe en 1967 avec Syd Barrett au premier plan.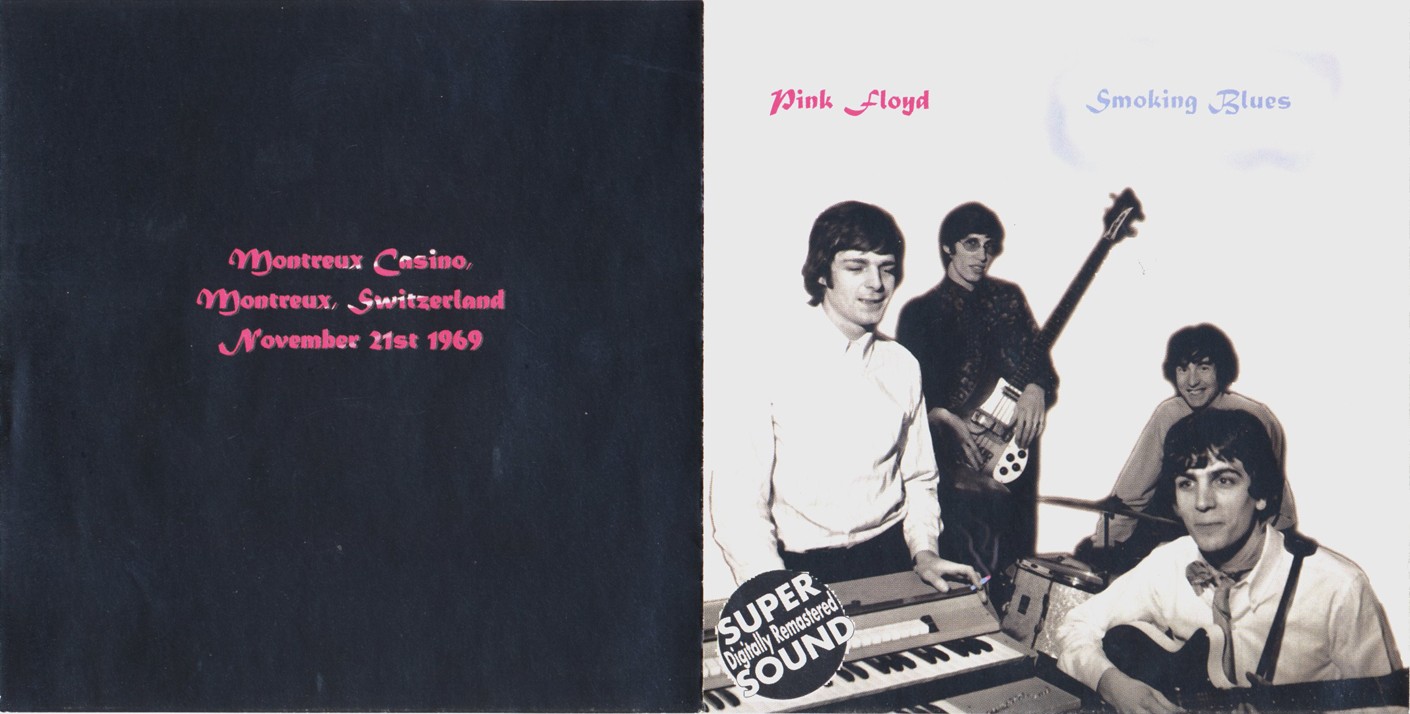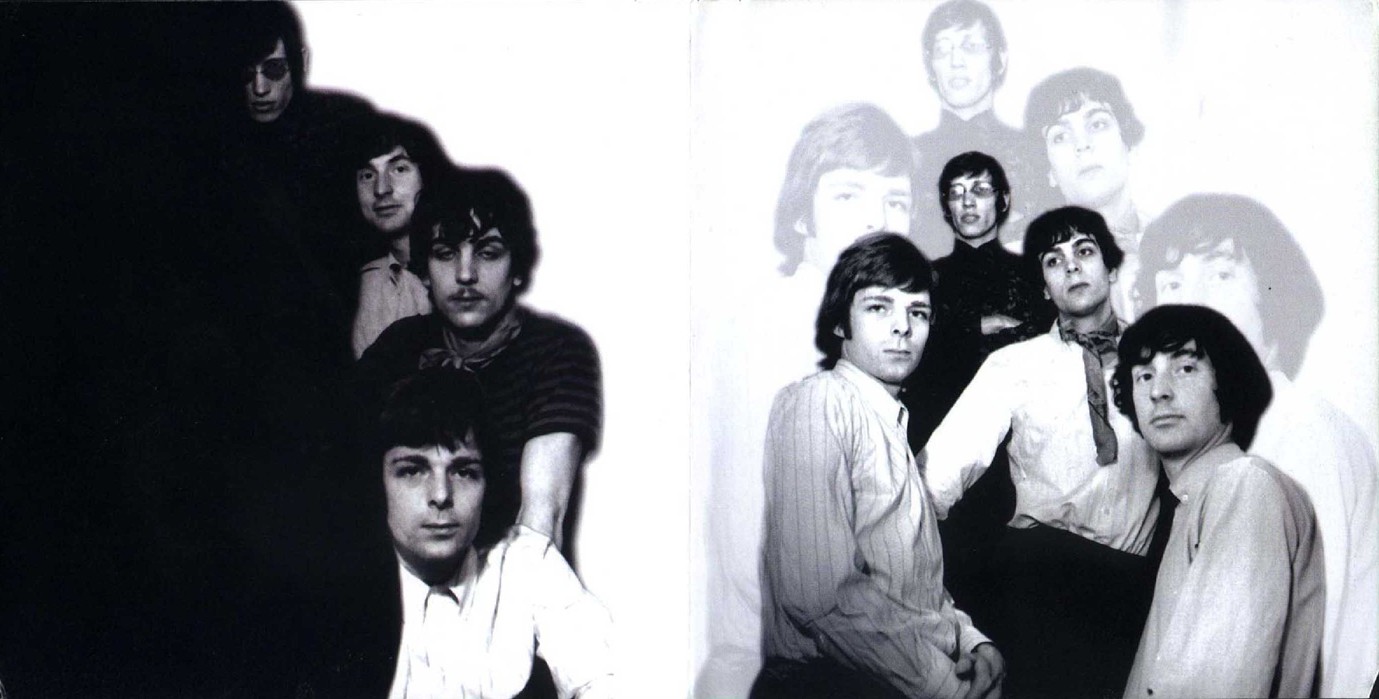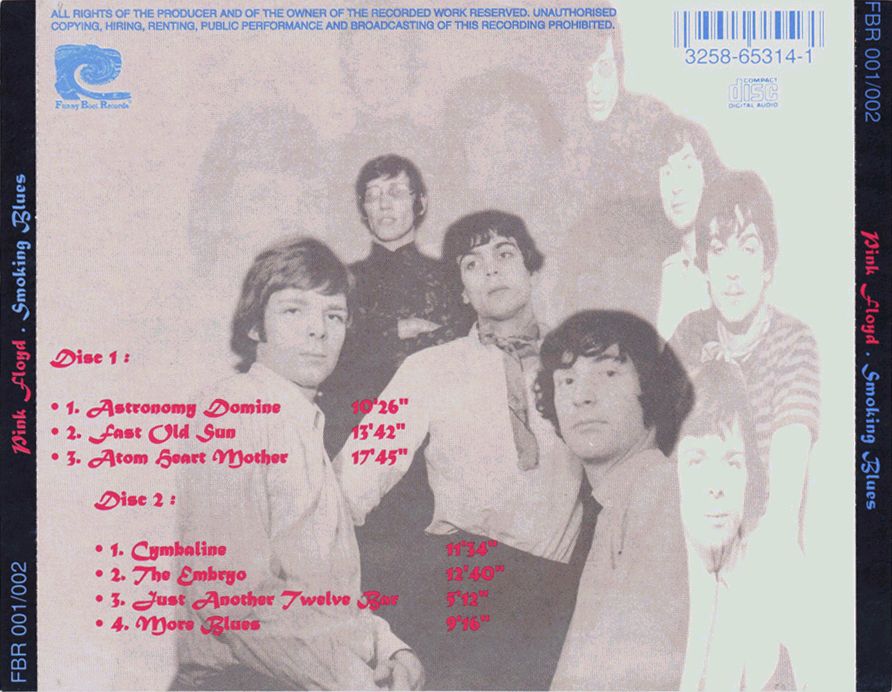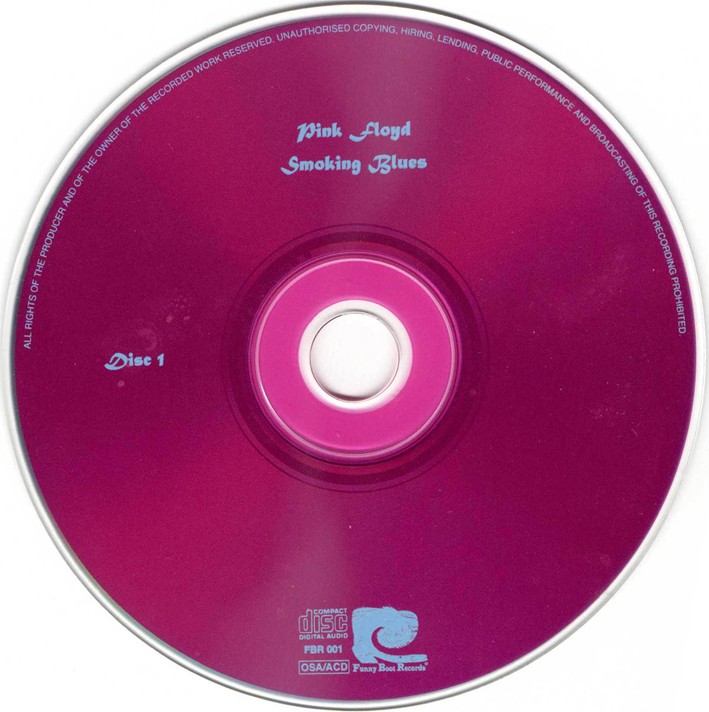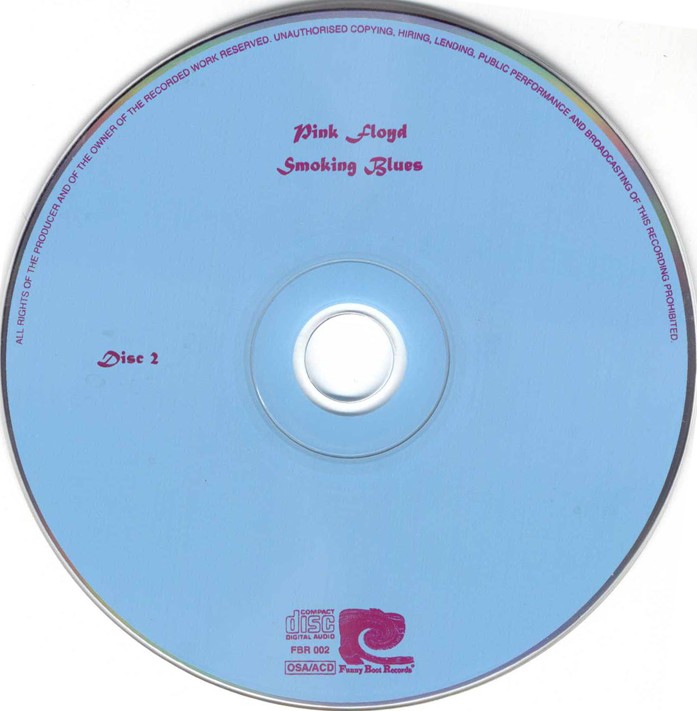 Bootleg n°1715