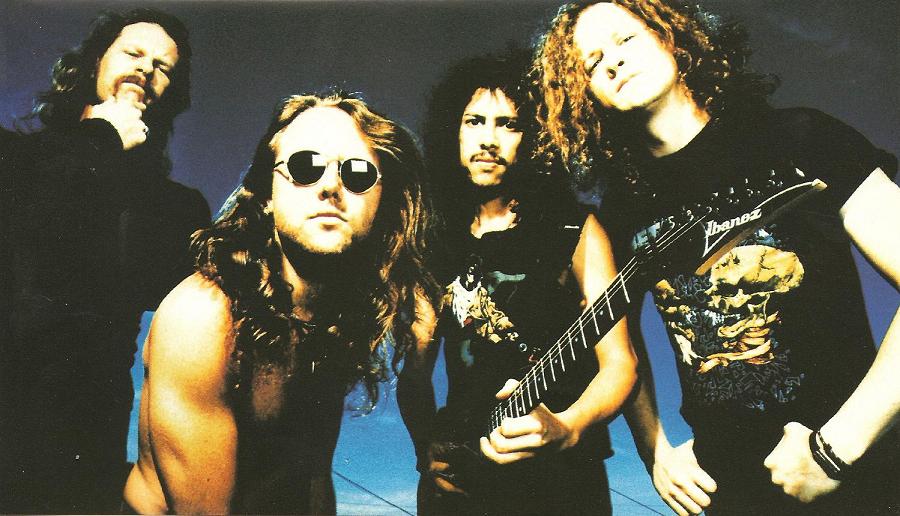 Metallica fait partie de ces quelques groupes qui ont changé la face du rock. Ils ont certainement moins apporté que les Beatles ou les Stones, mais ils ont contribué à faire passer le heavy metal, longtemps cantonné à une sorte de ghetto musical, dans le domaine grand public.
Toutefois, cela n'est vrai qu'à partir de leur album « Metallica », sorti en 1991. Avant cela, ils ont sorti quatre grand albums (les quatre premiers), qui eux sont loin d'être accessible au grand public et continuent à ne pas passer dans les discothèques ni sur MTV. C'est donc pour ces albums là que je les aime.
Par contre, question bootlegs, je dois admettre qu'il n'y a pas grand chose de bon à se mettre sous la dent pour les années 1983 à 1991. Après, on trouve beaucoup d'enregistrement en qualité FM, ainsi que pas mal de disques semi officiels, publiés par le groupe pour les membres de son fan-club mais pas commercialisés.
Les amoureux de Cliff Burton, devront se faire une raison !
J'ai une très grosse collection de bootlegs de Metallica, mais cela ne dois pas laisser penser qu'il s'agit là de mon groupe préféré. J'ai adoré les deux premiers albums (« Kil 'em all » et « Ride the lightning »), beaucoup aimé le troisième (« Master of puppets »), pas mal apprécié le quatrième (« …And justice for all ») et je me suis ennuyé à partir du cinquième. J'ai arrêté d'écouter les albums suivants. Non, si je possède plus de cents vingt bootlegs de Metallica c'est parce que du temps d'e-mule, j'ai téléchargé un fichier qui en contenait près de 80 en version mp3. J'ai amassé le reste petit à petit en essayant de privilégier davantage la qualité sur la quantité. La liste est ici.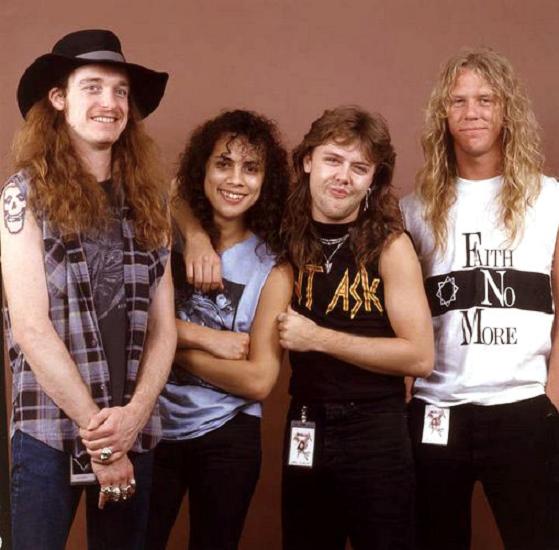 BOOTLEGS DE METALLICA
(Liste chronologique)
1982-1988 – COMPLETE DEMO COLLECTION
1988-2014 – 30 YEARS OF JUSTICE (LIVE)
1982-1983 – NO LIFE 'TILL POWER
17/09/1982 + 18/10/1982 – LIVE BEFORE DEATH
29/11/1982 – METAL UP YOUR ASS
30/11/1982 – RON McGOVNEY'S LAST SHOW (SAN FRANCISCO)
05/03/1983 – CLIFF'S FIRST SHOW
08/04/1983 – 8 APRIL 1983 STATEN ISLAND, NY
30/08/1983 – 30 AUGUST 1983, RESEDA, CA.
02/09/1983 – 2ND SEPTEMBER 1983, BERKELEY
25/11/1983 – 25 NOVEMBER 1983, BERKELEY
26/11/1983 – THE STONE, SAN FRANCISCO, CALIFORNIA
22/01/1984 – 2ND JANUARY 1984 BOSTON
05/02/1984 – MILAN ITALY 1984
09/02/1984 – FIRST GIG IN PARIS
11/02/1984 – FUCKING NUTS
08/04/1984 – THE MARQUEE, LONDON – 8TH APRIL 84
09/06/1984 – 9TH JUNE 1984 – ZWAAGWESTEINDE
20/06/1984 – 20TH JULY 1984, SAN FRANCISCO (Ca.)
18/11/1984 – TRAPPED IN FRANCE
23/11/1984 – GRAND PARC, BORDEAUX – 23/11/1984
01/12/1984 – 1ST DECEMBER 1984, MAINZ, GERMANY
04/12/1984 – THRASHING THRU EUROPE '84
05/12/1984 – CAP'Ns OF KRUNCH
12/12/1984 – WIN, LOSE OR DRAW (STOCKHOLM, SWEDEN)
15/12/1984 – TARVASJOKI, FINLAND, 15TH DEC. 1984
20/12/1984 – NO REMORSE AT THE LYCEUM

10/01/1985 – 10TH JANUARY 1985, SCOTIA (NY)
09/02/1985 – RIDE A NEW LIGHTNING
15/03/1985 – BANG THAT HEAD THAT DOESN'T BANG!
17/08/1985 – ACTING LIKE A MANIAC
31/08/1985 – DAY ON THE GREEN FESTIVAL 1985
14/09/1985 – LORELY METAL HAMMER FEST 1985
05/04/1986 – CHICAGO PAVILION 1986
28/04/1986 – 28TH APRIL 1986, UNIONDALE (NY)
 12/05/1986 – PUPPETS IN EL PASO
  24/05/1986 – ENTERTAINMENTS FOR METALHEADS / GIRARDEAU
25/05/1986 – ARAGON BALLROOM 1986
16/05/1986 – 26TH MAY 1986, DES MOINES (IOWA)
06/07/1986 – MASTER OF REALITY (ROSKILDE FESTIVAL)
15/09/1986 – ULSTER HALL, BELFAST
19/09/1986 – MAYFAIR, NEWCASTLE
24/09/1986 – OLYMPEN, LUND
26/09/1986 – CLIFF'S LAST SHOW / TODAY'S HERO TOMORROWS LOST
09/11/1986 – JEZABELLE'S, ANAHEIM
15/11/1986 – SHIBUYA KOKAIDO, TOKYO
05/12/1986 – PAVILLON DE LA JEUNESSE, QUEBEC
13/12/1986 – THE METAL MASTERS
27/01/1987 – MARKTHALLE, HAMBURG
08/02/1987 – BEYOND THE WALL OF SOUND
13/02/1987 – ALL THINGS MUST COME TO AN END
20/08/1987 – 100 CLUB, LONDON
28/08/1987 – MESSEGELENDE, NUREMBERG
30/08/1987 – CREEPING DEATH / SHEER RAGE
24/05/1988 – LIVE AT THE TROUBADOUR

 12/06/1988 – BARRED REALITY / MONTERS OF ROCK

26/06/1988 – GIANTS STADIUM, EAST RUTHERFORD
26/09/1988 – St GEORGE HALL, BRADFORD (BOOTLEG « DAMAGED BRITISH »)

30/09/1988 – CITY HALL, SHEFFIELD (BOOTLEG « DAMAGED BRITISH »)
15/10/1988 – IJSELHAL, HELSINKI
18/10/1988 – SKEDSMOHALLEN, OSLO
19/10/1988 – FROLUNGDABORG, GOTHENBURG
21/10/1988 – SEDMEYERHALLE, MUNICH
29/10/1988 – FOREST NATIONAL, BRUXELLES
05/02/1989 – FAN CAN #4 (AND ALL THIS FOR YOU)
11/05/1990 – MARQUEE, LONDON
16/05/1990 – IJESSELHALLE, ZWOLLE
19/05/1990 – IN VERTIGO YOU WILL BE
21/05/1990 – BERCY, PARIS
25/05/1990 – N.E.C. ARENA, BIRMINGHAM
26/05/1990 – S.E.C.C., GLASGOW
29/06/1990 – CNE, TORONTO
10/08/1991 – GENTOFTE STADIUM, COPENHAGEN (DENMARK)
17/08/1991 – MONSTERS OF ROCK DONINGTON 17.08.91

22/08/1991 – NEP STADIUM, BUDAPEST (HUNGARY)
25/08/1991 – ST JAKOB'S STADION, BASEL (SWITZERLAND)
17/09/1991 – WESTFALLENHALLE, DORTMUND (GERMANY)
21/09/1991 – SKULL AND SNAKE (PARIS)

28/09/1991 – MONSTERS OF MOSCOW
03/11/1991 – LIVE IN AUBURN HILLS
08/11/1991 – TARGET CENTER (MINNEAPOLIS, MINNESOTA)
18/11/1991 – CIVIC CENTER (OTTAWA, ONTARIO)
20/12/1991 – LIVE LONG ISLAND
23/12/1991 – LIVE WORCESTER, Ma. DECEMBER 23 1991
13/01/1992 – SPORT ARENA (SAN DIEGO, CALIFORNIA)
18/01/1992 – POSERS CAN'T HEADBANG

15/02/1992 – SELLAND ARENA (FRESNO, CALIFORNIA)
16/02/1992 – LAWLOR EVENTS CENTER (RENO, NEVADA)
07/04/1992 – THE SPECTRUM (PHILADELPHIA, Pa)
14/04/1992 – ANGEL HEART (HAMILTON, ONTARIO)
15/05/1992 – BISON SPORT ARENA (FARGO, NORTH DAKOTA)
30/05/1992 – SULLIVAN ARENA (ANCHORAGE, ALASKA)
12/07/1992 – BRABANTHAL, DEN BOSCH (NETHERLAND)
17/07/1992 – RFK STADIUM, WASHINGTON D.C
04/11/1992 – FIRST NIGHT IN BIRMINGHAM

16/11/1992 – AHOY, ROTTERDAM (NETHERLAND)
17/11/1992 – PALATRUSSARDI, MILAN (ITALY)
18/11/1992 – HALLENSTADION, ZURICH (SWITZERLAND)
24/11/1992 – WESTFALENHALLE, DORTMUND (GERMANY)
26/11/1992 – ENTER MAINHATTAN (WARRIORS RULE)

16/12/1992 – HELSINKI, FINLAND 1992

12/02/1993 – FORUM, MONTREAL
20/02/1993 – FORT MYERS, FLORIDA
05/06/1993 – TEARING YOUR INSIDES OUT
13/08/1994 – WOODSTOCK WHIPLASH
12/11/1996 – A CHANGE OF SEASONS
19/02/1997 – THE ODEON, CLEVELAND 2000
12/05/1999 – GARAGE REMAINS THE SAME / 12TH MAY 1999 SANTIAGO CHILE

23/05/1999 – DYNAMO OPEN AIR 1999
11/06/1999 – BULGARIAN ASSAULT
04/07/2000 – PSINET STADIUM, BALTIMORE, 2000

18-22/05/2003 – FAN CAN #5 / LIVE REHEARSALS AT THE FILLMORE, SAN FRANCISCO
11/06/2003 – ANGER IN FRANCE  – ROUND 2 (LE BATACLAN)
20/04/2004 – NASSAU COLISEUM 2004
17/01/2009 – LIVE IN PHILADELPHIA 2009
04/11/2010 – CALL OF DUTY BLACK OPS
08/06/2013 – KILL'EM ALL LIVE / DEEHAN
18/08/2013 – FIGHT FIRE WITH SEOUL / LIVE IN SEOUL
14/09/2015 – REMAINING MEMORIES OF THE COLISEE